Aston in race against time for Sebring
| | |
| --- | --- |
| By Steven English and Matt Beer | Friday, January 14th 2011, 11:49 GMT |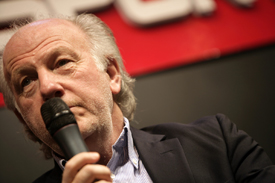 Aston Martin Racing chief David Richards is still optimistic that the company's new LMP1 contender will be ready for a debut in the Sebring 12 Hours, but admitted that it would only be a single-car entry and that the project is currently a "race against time".
Richards said construction of the car is progressing well, with the engine running on the dynamometer for the first time today.
"As we sit here today, by this afternoon the new engine for the car will run for the very first time on the dynos down at Prodrive," he said on stage at AUTOSPORT International.
"We have started with a clean sheet of paper and designed a brand new race engine specifically with the purpose of winning Le Mans.
"The first chassis was delivered from our composites operation to the race team about a week ago, and they've started building it. The bodywork is not yet finished.
"It's a bit of a race against time to be quite honest with you. The target date was to run the car in the first week of February, then ship it out to America to continue testing at Sebring, then stay in America for further development work and race at Sebring in March. We can only manage one car for that [racing at Sebring].
"It's a very demanding track and if you can manage 12 hours around Sebring on a bumpy airfield circuit made out of concrete, you can normally last 24 hours at Le Mans."
He suggested that Aston will race regularly in the second half of the season once Le Mans is out of the way.
"After Le Mans we'll have more cars in circulation, we'll have more mileage under our belts and we'll be doing a few more races in the States and in the Le Mans Series as well,"
Aston's new Le Mans programme was contingent on race organiser the Automobile Club de l'Ouest ensuring the latest rules would allow petrol engines to take on the diesels that have dominated since 2006. Richards is satisfied that the recently-announced ACO rule tweaks will have the desired effect.
"They've made the commitment now in the regulations to balance the performance of the petrol and the diesel engines," he said. "There was always the intent there before but it was never in black and white, and now it's article 19, I think, in their regulations and they are very committed to ensuring that takes place."