ACO approves performance balancing
| | |
| --- | --- |
| By Matt Beer | Wednesday, December 22nd 2010, 12:58 GMT |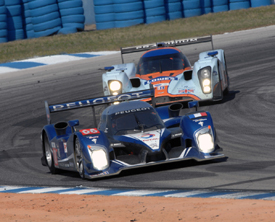 Le Mans organiser the Automobile Club de l'Ouest has confirmed that in 2011 it will be able to adjust the rules during the course of its championships' seasons to prevent any type of car becoming too dominant.
The 'article 19' rule will apply to the new Intercontinental Le Mans Cup, Le Mans Series and American Le Mans Series, and is aimed to solve the long-running issue of petrol-powered cars being unable to compete with the diesel technology that Audi and Peugeot have introduced since 2006. The new regulations intend to keep the top petrol and diesel teams within two per cent of each other's pace.
A statement from the ACO promised the introduction of: "Performance adjustment through the application of article 19 [the ACO reserves itself the possibility of balancing performances between the different engines and technologies] as well as the two per cent rule.
"This means keeping the lap times of the quickest cars in each technology within a range of two per cent in relation to the quickest car, all technologies combined, through decisions taken by the ACO."
The official green light for the rule change will be welcomed by Aston Martin Racing, which has committed to an all-new petrol LMP1 car in the expectation that the regulations would give petrol machinery a chance to fight for outright victory in the 24-hour race again after five seasons of diesel dominance.
In other 2011 adjustments confirmed by the ACO, LMP2 becomes a fully-fledged 'pro-am' category across all the Le Mans championships, with at least one gentleman driver - as assessed under the ACO's driver categorisation - mandatory in each car's line-up.
The GT classes are also being restructured into a single GTE category, split into GTE Am and GTE Pro. The amateur class must include a gentleman driver in each entry, and cars must be at least a year old, whereas GTE Pro is unrestricted, but will feature performance balancing.