Domenicali unsure about rear wing rules
| | |
| --- | --- |
| By Michele Lostia and Pablo Elizalde | Wednesday, January 12th 2011, 10:29 GMT |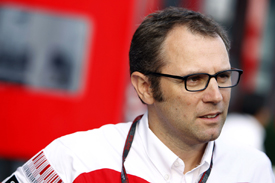 Ferrari boss Stefano Domenicali says he is unsure the moveable rear wing rules will be able to boost overtaking in 2011.
As from this season, drivers will be to adjust their car's rear wing from the cockpit in order to have more top speed and improve the chances of overtaking.
The system will only be available to the driver when he is is less than one second behind a rival at pre-determined areas of the circuit.
Domenicali admitted he is sceptical about it.
"It's an unknown field: it has been fairly well defined with clarifications on the technical regulations, but like every new thing we need to be cautious," Domenicali told Autosprint magazine in an interview.
"The driver running behind another one will be able to activate it to get in the slipstream only in determined points of the track, and only if the gap between himself and his rival is very tight. It will be up to race direction so signal the possibility with a light on the cockpit.
"However, I wonder: besides helping overtaking, will this system make the duels more spectacular or too predictable? At the moment I'm a bit sceptical, but I hope to be wrong. I also hope that the TVs find a way to make people understand on screen who has activated the mechanism and who hasn't, otherwise you won't understand a thing anymore."
The Ferrari boss also insisted that his team is still against the rules introduced to restrict testing during the season, but claimed the Maranello squad is not the biggest spender in F1.
"Our president has often expressed criticism against that rule, by saying that it's like prohibiting a football team to train between games," he said.
"I want to remind people that Ferrari, by accepting this rule that cuts testing, is that team that has renounced the most to its investments, because in the past we had aimed more at real testing than the simulator, differently from others. Let's not forget we had two test tracks that are now unused.
"And then, it's time to quit with this story that Ferrari is the team that spends more than everyone else in F1. That's not true anymore."
He added: "For sure Red Bull and McLaren spend more than we do to build their chassis. Then there is the engine, which represents an important cost for us because we have to build it. For them it's simply an invoice to pay because they buy it nice and ready."