Fernandes applauds 'green' engines
| | |
| --- | --- |
| By Jonathan Noble and Matt Beer | Monday, January 3rd 2011, 16:16 GMT |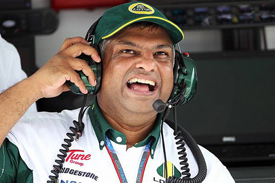 Team Lotus chief Tony Fernandes has hailed the 2013 engine regulations as a huge step forward for Formula 1's image.
The next generation rules will see the current V8s replaced by four-cylinder, 1.6-litre engines, with a reduction in fuel compensation and increased use of energy recovery systems designed to improve the sport's environmental credentials.
Fernandes believes the 2013 regulations go a long way to answering criticisms of F1's impact on the environment, and make the sport much more attractive to the road car industry.
"I think it is great news. I am so happy about it," he told AUTOSPORT. "We've now got the scenario of F1 being very relevant to the car industry but most importantly, F1 being very relevant to the environment.
"I always said that we have got some of the best brains in the sport in terms of engineers and technical people, and wouldn't it be great if they could use their brains to make the world a better place.
"The fact that we can reduce fuel consumption by 35 per cent is phenomenal, imagine if we could transfer that to every car out there - it would be 'wow'. That is a massive number.
"Imagine also with the usage of KERS, we are recovering one per cent at the moment but we could be up to 50 per cent in years to come.
"F1 becomes so relevant because everybody has a 1.6 engine. And costs go down and money goes into better uses than just making a car as fast as possible so I think it is fantastic, it is a really, really great step forward."
He called for additional rule changes to further increase F1's alignment with the car industry.
"I hope the next step is to make the wheels and tyres the same size as [road] cars so tyre manufacturers benefit from the safety that is learned, and engineering that can be put onto a 1.6-litre, Toyota, or Hyundai or Renault," said Fernandes.