Barrichello: 2011 Williams is 'aggressive'
| | |
| --- | --- |
| By Simon Strang and Adam Cooper | Saturday, January 1st 2011, 16:03 GMT |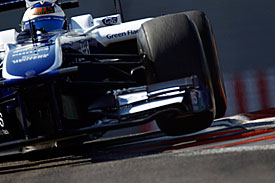 Rubens Barrichello is confident that the strong relationship he has built with the Williams team over the past 12 months will ensure that the 'aggressive' new FW33 challenger will be a more consistently competitive prospect than its predecessor.
Speaking in an interview with AUTOSPORT as he looks ahead to his 19th full season as a Formula 1 driver, the 38-year-old believes that both he and the team have made strides forward through 2010 and that both are ready to capitalise on that knowledge gained this year.
"I'm so positive that I can see the team growing, but I'm possibly not the right person to question," said Barrichello. "I can see only the good signs, and I'm changing the bad signs. I've been pinpointing things exactly with the car, and with that they can help everyone in the team to go forward.
"Next year's car is definitely in aggressive mode. But it's about whoever makes the tyres work better.
"It's a make or break type of thing. If you think that the Honda was not a very good car, we had a terrible 2008 season, and whenever they put the slicks on at the end of the year, the car improved itself. It was a car that if it was fighting for sixth position, it was already fighting for fifth. And then they made such an upgrade [as Brawn] it went to first.
"The Pirelli tyres could have a fundamental change on the tyres aerodynamically, so whatever happens it will help some teams and it won't help some others."
Barrichello added that he believed that Williams's battery-based KERS solution will also give the team an edge with the organisation having run simultaneous development on that and its well-documented flywheel system.
"We do think we're strong, because we've been developing it," he said. "As a driver we're just concerned that we're going to have to press so many damn buttons that it's going to be tough!"
Barrichello says that his time at Williams so far ranks among the most satisfying of his career and that he has derived tremendous fulfilment from steering the development progress of the team from a driver's perspective.
"It's not about cuddling and love, it's about getting the work done and getting everyone to hear what you're doing," he explained. It's a good marriage to be honest, with you. That's what I'm in love with!
"It's been one of the best times of my career. Like I've said before, all the teams that have employed me have used me well enough for their benefit, but not as well as Williams have used me. They hear me fully, and they actually act. They may have a sense that 'this is bullshit,' but let's try it anyway.' And then they try, and see some benefit.
"There's been some fantastic work. Sam [Michael] heard me and went off, and after Istanbul we were able to change the characteristic of the wind tunnel."