Sainz cautious about Dakar chances
| | |
| --- | --- |
| By Matt Beer | Tuesday, December 28th 2010, 11:21 GMT |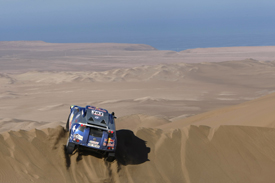 Defending Dakar Rally winner Carlos Sainz says he will remain 'modest' in his approach to the 2011 event despite his 2010 success.
The former World Rally champion has won his last four cross country rallies with Volkswagen, including his maiden Dakar triumph last year.
The Dakar moved from its traditional African location to a new base in Argentina and South America in 2009, and Sainz regards the current stages as an equal challenge to the old route.
"Compared to the stages in Africa it is the variety of the terrain in South America that impresses me the most," he said.
"Beforehand the talk is frequently of very special challenges. For example, it is known from last year that the route between La Rioja and Fiambala in Argentina was a type of rally-defining stage. This year we still hardly know what to expect, as the organiser has only released a few details.
"Following my career in the World Rally Championship, if there is one important lesson that I learned for desert rallies then it is this: You must approach the challenges thrown up every day with the greatest respect and always remain modest."
He warned that tiny errors when among the route's sand dunes could ruin an entire rally.
"The dune stages in the Atacama Desert and in the Cordilleras foothills will again certainly be a unique challenge," said Sainz.
"The sand in cross country rallying represented the greatest change for me, because before I'd driven tens of thousands of kilometres on gravel. Sometimes you approach towering dunes like those around Copiapo. You have to sense and read the sand exactly on every single day, and you must confront the dunes with respect.
"Furthermore, every driver also simply needs a little luck. Even Nasser Al-Attiyah and Stephane Peterhansel, who are in my opinion certainly the best drivers in sand, got bogged down during the 2010 Dakar Rally.
"If you drive a tiny bit more to the right or left you can be lucky or, in the same way, be unlucky. Nobody knows what it looks like behind the dune, which is why I have coined the phrase in our cockpit: You can't see through the sand. Two plus two does not necessarily make four in the desert!"