Petrov gets new two-year Renault deal
| | |
| --- | --- |
| By Matt Beer | Wednesday, December 22nd 2010, 12:04 GMT |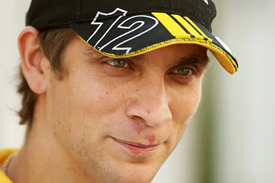 Vitaly Petrov will stay on at Renault in a new two-year deal, the team has confirmed.
Although the squad had called for more commitment and consistency from the Russian rookie during the year, in recent months it had become clear that a contract extension for Petrov was the most likely option. Renault had already re-signed Robert Kubica for next season.
Team boss Eric Boullier said Petrov would now have the chance to develop the promise he had showed during 2011.
"We are very pleased to confirm that Vitaly will be staying with us for 2011 and 2012, in order that both he and the team can build on a promising 2010 campaign," Boullier said.
"The entire team has been working flat-out over the past months to improve our competitiveness, and a stable driver line-up is essential to achieving our targets.
"Robert Kubica provides a remarkable benchmark for both speed and consistency, and we are certain that Vitaly will move closer to this level of performance next year."
Team chairman Gerard Lopez agreed that there had been no doubts over Petrov's ability, and that the Russian should able to turn that potential into better results with more experience behind him.
"Last season, he showed on several occasions that he clearly has the potential to deliver," Lopez said. "It was just a matter of putting everything together during the same weekend, race after race, and this will be his target for 2011."
Petrov said he was delighted to have been kept on, and acknowledged that the pressure was on to improve next year.
"I am very happy to continue with the team and proud to be representing Lotus Renault GP for the 2011 and 2012 seasons," he said.
"I learned a lot about the sport, the circuits and the car this year. That will help me improve even more in the future. I am very excited about working with this great team once more, and I'm confident that I will deliver.
"In many ways, 2010 was about learning. 2011 will be about performing. Today, I feel I am ready to rise to this challenge."
Lopez added that Renault was keen to capitalise on Russian interest in F1 generated by both Petrov's presence in the field and the deal for Russia to host a grand prix from 2014.
"Also, thanks to Vitaly and the team, Russia is opening up to Formula 1," said Lopez. "Over the past few months, we've established close links with this country and with some of its strongest companies.
"We're looking forward to building on this special relationship and turning it into a very successful adventure over the next two seasons."
Although Petrov had a mixed rookie season, including several costly crashes, he also impressed with drives such as his strong run to fifth in Hungary, and his defence against Fernando Alonso in Abu Dhabi. He finished 13th in this year's championship.