McLaren MP4-12C to race from 2012
| | |
| --- | --- |
| By Pablo Elizalde | Friday, December 17th 2010, 10:44 GMT |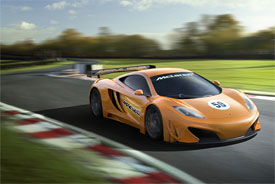 McLaren has confirmed that it plans to bring its name back to sportscar racing, with the news that it will supply its MP4-12C car for competition in the GT3 category.
The company said it will start supplying a limited number of cars to European-based privateers for them to race from 2012.
McLaren won the Le Mans 24 Hours 15 years ago with its F1 GTR machine, its last sportscar machine.
Together with CRS Racing, the team from Woking has begun the development of the 12C, hoping to turn it into a race-winning car in GT3.
The team said that initial plans are for a limited run of 12Cs for the 2012 European FIA GT3 Series.
"Racing is in our blood - it was natural to develop a GT3 car alongside the 12C road car," said McLaren boss Martin Whitmarsh.
"We have a legendary history in global motorsport, including GT racing, and we aim to maintain that reputation with this GT3 programme, and any future sportscar projects that may evolve.
"The 12C's architecture and design was always aimed at high-performance and ease of maintenance - two key criteria for potential customers.
"Combine that with the vast amount of racing experience in our automotive team, and CRS Racing's specialist development experience, and the 12C GT3 should be an exciting proposition for the top teams planning to race in GT3 from 2012."
CRS Racing boss Andrew Kirkaldy added: "It is a rare opportunity to work with a company like McLaren and we are proud to be involved. Together, we aim to produce the highest quality GT car on the grid. The level of engineering experience at McLaren is unparalleled and this will be reflected in the 12C GT3.
"One of the most important aspects of this programme will be customer service and for that reason we will be building a limited number of cars at a competitive price. The result will be an incredible GT car with manageable running costs and good residual value that will provide its owner with an unrivalled experience."