Speed released by Red Bull
| | |
| --- | --- |
| By Diego Mejia | Thursday, December 2nd 2010, 15:41 GMT |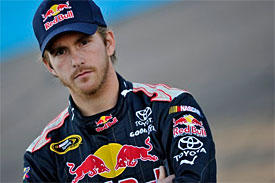 Scott Speed has been released by Red Bull, leaving the Californian out of a ride in the Sprint Cup series for 2011.
According to Speed's twitter feed, he got a termination letter from Red Bull last week, which he claimed to be "not huge surprise".
He recently completed his second full season at NASCAR's top level, starting his year well and ranking as high as 11th in the points while also leading laps in the first three races.
Later he qualified on the front row at Phoenix but only until July in the series' second visit to Daytona he got his first top-ten finish of the year, crossing the line in tenth place.
After that though, 19th-place finishes at Kansas and Charlotte where his best, dropping to 30th place in the championship by season's end.
The 27-year-old, who became the leading driver for Red Bull's Driver Search in the US back in 2002, will no longer be part of the brand's roster of drivers.
Following success in the junior formulae in Europe, Speed was able to reach Formula 1, first as a test driver for Red Bull, then getting a race seat with Scuderia Toro Rosso on the team's debut season in 2006.
Halfway through his second season, he parted ways with Toro Rosso and landed in the US where he switched to stock car racing, making his debut in the ARCA Series at Talladega in 2007.
He followed that with a part-season in the Truck Series in 2008, where he won at Dover in only his sixth race, while he also claimed four wins in ARCA, all of them on oval tracks.
After making his Sprint Cup debut at Martinsville in 2008 and qualifying on the front row for the season-finale at Homestead, he went on to compete full-time in 2009, scoring a best finish of fifth at Talladega, while failing to qualify three times during the year, notably at the Sears Point road course.
Red Bull Racing team has already announced Kasey Kahne as one of its drivers for 2011, while Brian Vickers is expected to return behind the wheel of the outfit's second entry, following treatment for blood clots he was diagnosed last May, which had sidelined him for the rest of the year.