Q & A: Meeke on Mini's progress
| | |
| --- | --- |
| By David Evans | Wednesday, December 1st 2010, 12:22 GMT |
Former Intercontinental Rally Challenge champion Kris Meeke gets his big World Rally Championship break with Mini next year, and is currently heavily embroiled with the team's test programme.
AUTOSPORT caught up with Meeke to find out how the latest session in Sardinia had gone.
Q. How do you feel the test went? Is it fair to call it the first real rally test?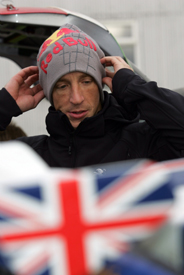 Kris Meeke: For the first test in Portugal, that was more or less a shakedown. It was out of the box, out of the truck and we ran. There were several teething troubles, things like cooling stuff - things the engineers have to get their heads around.
Then we went to Spain and purposefully chose roads which weren't too testing, just to get more testing. When you have a new engine and a new car, you have to do so many kilometres to gather data for the engineers.
But this has been the first time we have come to rally territory and the first time the car has run on asphalt – and it's been very, very positive. When you get to asphalt, you get to find out more about the characteristics of the chassis and I have to say I am very, very impressed.
I never like to get too optimistic, you never know where the others are at. But I have sat in quite a few cars down the years and I'm very impressed with where we are at, particularly bearing in mind the car hasn't done 2,000 kilometres yet.
Q. What pleases you about the car on asphalt?
KM: It's hard to describe, but the DNA of the car seems really, really good. The chassis, the inertia, the way the car moves, the way the car moves from braking to corner entry, it just feels really good. It was really simple to drive and fast. The aero worked well as well, and you know this is nothing compared with what we're really going to be running. It's an interim rear wing.
Q. It's a rear wing from a Subaru Impreza WRC...
KM: It's an interim rear wing, but we got good downforce from it, which is helping gather more data. There's more to come and that's the exciting bit.
We want to keep our feet on the ground, but what can happen sometimes at this stage in the development is that you feel: 'Oh, something doesn't feel right...' Then you have to go back and start scratching your head, it can then be a few months before you're back to where you were, and does it feel right again? So, at least the big, big thing is that we're not there. We have nothing like that feeling. We're on the right road and everything is looking positive for us.
It's also really important to be patient with everything. It would be easy to sit in the car and say: 'this, this and this...' But that's not the way it works and there's no need to do that here.
Q. Does the lack of reference bother you?
KM: Not really, no. We genuinely have no reference for this car. You know, Citroen can put the DS3 against the C4 and Ford, the Fiesta against the Focus, but what does that tell them? It doesn't mean a thing until you get it into the stage and find out what's happening there.
All we can do is focus on extracting the most from our car, that's all that interested in us. You know next year is definitely a development year and I'm not going to be worried if we're not at the races for the first couple of events.
Q. How's it working with the team?
KM: The team is gelling extremely well. For the past few weeks, I've been at Prodrive two days a week working with the engineers. We've been doing things like moving the steering wheel, adjusting the seat and all that kind of thing.
I've also started working with the dampers, it's all starting to become a clearer picture for me now. I've done a lot of development work with a lot of cars in the past, but to have the chance to be involved with a new project from the day dot and to grow with the team and car, it just all feels right. It feels brilliant to be part of it. It'll take some time to learn the personalities in the team, but there's respect from all sides now.
Q. Prodrive's got plenty of experience...
KM: Exactly. You know when you look around the factory, there's some amount of experience there. You know, you can have 100 engineers coming out of university, all with grade A*, but they won't have the experience. And the core bunch of people left at Prodrive [after Subaru withdrew at the end of 2008] is all about experience.
Q. What do you think of the tyres?
KM: When we arrived and there was hail and rain and all sorts, I was almost wishing I hadn't looked at the asphalt tyre. It was almost like a Monte Carlo test and you are almost safer not looking because you see the slick bit on the outside and think: 'hmm, if I push hard and we get onto that slick bit, what's going to happen?'
But when you get out there, it's incredible what it's capable of. And we have done back-to-back with the conventional [BF Goodrich] slicks which we've been using in the IRC this year and you're only talking about 0.3 or 0.4 seconds per kilometre difference in the tyres. And in the wet, they turn in perfectly, it's incredible what they can do.
Q. Did you test both hard and soft compounds?
KM: Yes. That was the best thing about the weather, it gave us this in-between phase where's it's marginal to go on the hard or the soft and we were able to find the characteristics of the tyres.