Mortara seals pole at Macau
| | |
| --- | --- |
| By Jonathan Noble | Saturday, November 20th 2010, 01:07 GMT |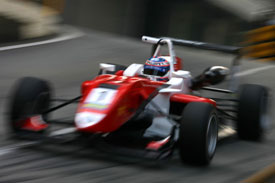 Edoardo Mortara grabbed pole position for the Macau Grand Prix qualification race with a controlled performance during another incident-filled session at the Guia circuit on Saturday morning.
With qualifying having been rescheduled after the red flag delays on Friday, Mortara kept his cool to just edge out Valtteri Bottas - who saved his best for the very last lap of the session.
Mortara improved on his provisional pole position time early into qualifying before seeing Signature team-mate Laurens Vanthoor push him off the top spot.
But Mortara dug deep to improve again, setting a pole position time of 2m11.165s with just more than eight minutes of the session remaining.
Bottas had slipped down the order but managed to get a clear lap together in the final seconds to get within quarter of a second of Mortara.
Vanthoor ended up third, ahead of Daniel Abt, Marco Wittmann and Roberto Merhi.
The session was stopped twice because of accidents. Adderly Fong and Yuji Kunimoto crashed at the Solitude Esses in separate accidents before the halfway point.
There were several other crashes - with Jean-Eric Vergne, Will Buller, Oliver Webb, Yuji Kunimoto and Antonio Felix da Costa among those to hit the barriers.

Pos  Driver                   Team          Car   Time          Gap
  1. Edoardo Mortara          Signature     D/V   2m11.165s
  2. Valtteri Bottas          Prema         D/M   2m11.383s  +0.218
  3. Laurens Vanthoor         Signature     D/V   2m11.594s  +0.429
  4. Daniel Abt               Signature     D/V   2m11.919s  +0.754
  5. Marco Wittmann           Signature     D/V   2m11.937s  +0.772
  6. Roberto Merhi            Prema         D/M   2m12.063s  +0.898
  7. Carlos Huertas           Hitech        D/V   2m12.543s  +1.378
  8. Felix Rosenqvist         Performance   D/V   2m12.664s  +1.499
  9. Renger van der Zande     Motopark      D/V   2m12.682s  +1.517
 10. Daniel Juncadella        Prema         D/M   2m12.861s  +1.696
 11. Jean-Eric Vergne         Carlin        D/V   2m13.042s  +1.877
 12. Alexander Sims           Raikkonen     D/M   2m13.261s  +2.096
 13. Antonio Felix da Costa   Carlin        D/V   2m13.511s  +2.346
 14. Jazeman Jaafar           Carlin        D/V   2m13.520s  +2.355
 15. Hywel Lloyd              CF/Manor      D/M   2m13.536s  +2.371
 16. Felipe Nasr              Raikkonen     D/M   2m13.576s  +2.411
 17. James Calado             Carlin        D/V   2m13.609s  +2.444
 18. Oliver Webb              Fortec        D/M   2m13.651s  +2.486
 19. Alexandre Imperatori     Toda          D/H   2m13.752s  +2.587
 20. Carlos Munoz             Hitech        D/V   2m14.660s  +3.495
 21. Rafael Suzuki            TOM's         D/T   2m14.733s  +3.568
 22. Lucas Foresti            Fortec        D/M   2m14.743s  +3.578
 23. Yuhi Sekiguchi           Three Bond    D/N   2m14.826s  +3.661
 24. Rio Haryanto             Raikkonen     D/M   2m14.860s  +3.695
 25. Kimiya Sato              Motopark      D/V   2m15.671s  +4.506
 26. Michael Ho               Raikkonen     D/M   2m16.314s  +5.149
 27. Hideki Yamauchi          Hanashima     D/T   2m18.456s  +7.291
 28. Yuji Kunimoto            TOM's         D/T   2m18.473s  +7.308
 29. Will Buller              Fortec        D/M   2m20.368s  +9.203
 30. Adderly Fong             Sino Vision   D/M   no time