Q & A with Pirelli's Paul Hembery
| | |
| --- | --- |
| By Edd Straw | Friday, November 19th 2010, 17:07 GMT |
Pirelli completed a major milestone in its return to Formula 1 in Abu Dhabi today when the 12 teams got their hands on the Italian rubber for the first day of fully-fledged testing.
Afterwards Pirelli's motorsport director Paul Hembery updated the media on progress so far. AUTOSPORT was there.
Q. I hear that there was a tyre failure at the end of the day?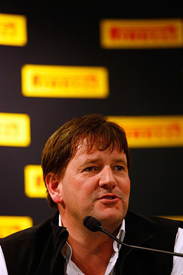 Paul Hembery: Yes. We had an instant deflation right at the end of the day coming up to Turn 11. The guys are out on the track now having a look to see what caused it. In general, the track is quite dirty after six days of running and there's a lot of debris on the track and we were starting to notice some cuts on the rear tyres. So it's nothing untoward, we just want to find out what's causing that.
Q. Was it with the medium compound or the soft compound?
PH: Soft.
Q. Apart from that, how would you rate the day?
PH: I'd rate the day as very successful. You can imagine coming here after testing only in Europe, where for the last few months it has been chilly, we haven't been able to test with high track temperatures. And we had 12 different drivers and cars, which was interesting and gave us a fantastic amount of information. The guys will be working through the night to analyse the information that we have.
Q. Where do you think you are with the compounds? The feedback from some of the drivers is that they are a little conservative?
PH: I guess that the prime is; the prime is not for this circuit. Whereas the soft that we had, we are very happy with. So we would probably come back here with that compound if we were racing here tomorrow with an additional super soft compound.
That was part of the exercise; there's no substitute sometimes for getting out and testing. In this case, it was very useful to find the level. There's not a book that you open up that says 'a soft compound is like this' - we give that to the public to make it simple, but our softs might be a hard in another tyre maker's book. So that was part of understanding where our rating scale was compared to where the sport has been used to.
Q. The lap times aren't particularly important this weekend and teams seem to think that it will be two seconds off the Bridgestones. Are you happy being in the ballpark?
PH: We haven't really looked at it. If we look at the race times, we are actually two seconds quicker. How do you compare? How do you compare a circuit that has been used by so many different cars and compounds.
In reality, the times are all relative and the only way to get an correct comparison of times is to run the same driver and same car changing the tyres on the same day. We are quite happy with the times. They look okay. There is nothing really abnormal. You have to understand that the teams are running a car that is designed to run on someone else's tyres.
Q. Was the amount of Bridgestone rubber down on the line a problem?
PH: We did try cleaning the track last night because we wanted to get rid of some of the rubber on the track. It wasn't greatly successful, we had a lot of pick-up on the track today and of course that really doesn't help from our point of view.
Hopefully tomorrow when we have had a day of running for ourselves, putting down the Italian rubber rather than the Japanese rubber, then hopefully it will be a little bit easier. It has a big effect. If we go to a test circuit that has had a race the previous weekend with somebody else's tyres on we tend to lose a day trying to clean the track.
Q. Considering the short lead time that you had for this project, how happy are you with where you are now just a few months from the start of testing?
PH: We are very happy, but we are also ultimate professionals and we won't be happy until the first race. When we have done the first race and everyone's happy and we've got the podium done I think that we might have a beer! But that's not going to happen before then.
February has four big test sessions when the teams will be running lots of new ideas on their new cars; we have a lot of work to do before the start of the season. This is the aperitif to getting through to the F1 season.
We are happy so far, but we have lots of work to do. As anyone could imagine, it's a very big logistical operation, it's not just about the tyre technology, it's about getting all of your people around the world, getting your logistics flows and factory flows. Happy, but we'll be happier when we have the first race.
Q. This afternoon, we saw that on each run the drivers had three fast laps and then lap four increased a lot. Did you decide something with the teams on strategy?
PH: No. We were looking at the lap times and some of them were very bizarre! They do three laps, then drop a lap time, then go. They became more consistent when they were using the soft tyre so from that saw what we would describe as a good level of consistency for that type of tyre in these conditions.
The sport is asking us not to provide something that can do 60 laps without any degradation. If they want to do that, we can, but that wasn't what they asked us to do.