Solberg ponders racing switch
| | |
| --- | --- |
| By David Evans | Wednesday, November 17th 2010, 10:42 GMT |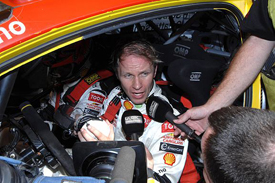 Petter Solberg has admitted he could take a year out of the World Rally Championship next season, with the Norwegian considering a year of circuit racing instead.
Solberg is still undecided on what his immediate future holds in the WRC. He is still talking to both Citroen and Ford about a programme for 2011, but the necessity to bring funds to both deals is making it difficult for the 2003 world champion.
Solberg has run his own team for the last two years and he admits he feels he has done all he can.
"I'm tired of having to chase the deals," he said. "For the last two years, I have been on planes and in meetings non-stop. And when I haven't been doing that, I've been driving, testing and working with the team.
"I feel like I haven't seen my family for two years. I don't think it's fair to carry on like this. I want to go to a manufacturer team and I want to fight, that's all."
Solberg tested an ORECA Le Mans car last year and admitted he came close to signing up for the 24 Hours. He said that remains an option for next year.
"It's possible to do other things next year," he said. "I could look at Le Mans, or there are some possibilities to race in America. It would be something new. But then coming back from a year away from the WRC could also be tough. I have to think."
Following the loss of a sponsor, Solberg was forced to fund the last two rallies of this year from his own pocket, which is not a situation the Norwegian will return to next season.
A source close to the Petter Solberg World Rally Team said: "Petter just needs a break now. He deserves a chance with a manufacturer after the way he has fought for the last two years.
"There's a possibility with Ford and Citroen next season. He has so much to offer as a driver, he could certainly win rallies and a title again."