| | |
| --- | --- |
| Burgess: No panic over Rossi test pace | |
| | |
| --- | --- |
| By Michele Lostia and Matt Beer | Tuesday, November 16th 2010, 21:53 GMT |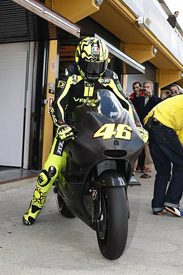 Valentino Rossi's chief engineer Jeremy Burgess says the Italian's slow times in his maiden test for Ducati are no cause for panic.
The seven-time MotoGP champion was only eighth and 15th on his first two days of running with his new team at Valencia last week.
But Burgess, who was followed Rossi to Ducati after achieving great success with him at Honda and Yamaha, said the Valencia sessions were largely for acclimatisation and there was no need to top the times.
"There's no reason to panic, despite Valentino's unusual test results," Burgess told Motosprint.
"Everything was new for Valentino as it was for myself and my team."
He admitted that there was a great deal of change to adjust to at Ducati.
"We've all found ourselves in contact with a bike very different from the Japanese ones, and therefore with a different work method," Burgess said.
"The Ducati reacts differently, so this is a time to be handled with calmness by us too, just to understand things.
"After years of Japanese bikes, and seven seasons at Yamaha, for Valentino to get on the Ducati was a sort of culture shock.
"This bike is a lot more physical, the way to make it turn with the required precision is certainly the thing we must focus on at the moment."
Burgess added: "Everyone likes to be at the top of the timesheets, after every test session, but I knew Valentino would get on the track to do a different job: he wanted to ride to understand the bike, not to do record laps.
"He kept himself within wide margins, he certainly didn't ride as if it was a race weekend. For sure we've understood that to make the Ducati turn, you need a bigger effort than what Valentino was used to, physically too, and we didn't expect that."
Burgess also believes that Rossi was suffering particularly badly with his shoulder injury - which has since undergone surgery - at the test.
"No one has focused on one aspect: his shoulder," said Burgess.
"Valentino has held on in order to finish the season, and two extra days have put strain on his already suffering shoulder.
"On the second day Valentino could barely do three or four laps in a row, and without ever pushing. This has influenced his test."