Q & A: Maldonado on his crucial tests
| | |
| --- | --- |
| By Edd Straw | Tuesday, November 16th 2010, 17:22 GMT |
Pastor Maldonado is in the spotlight in this week's Abu Dhabi tests as he has become a strong favourite for a 2011 Williams seat following the team's split with Nico Hulkenberg.
The GP2 champion was in the Hispania today, and set an impressive pace. As he told AUTOSPORT afterwards, he thinks today's outing will have been crucial preparation for tomorrow's potentially very significant test.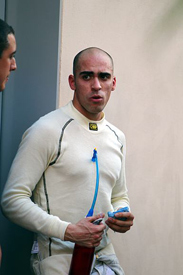 Q. Today was your first experience of Formula 1 since you tested a Minardi five years ago. What did you make of it?
Pastor Maldonado: It was a great day for us. We improved every time we went on the track so it was a very positive day for me and the team. The engineers said how to improve and we did it and I adapted myself to the car. The team did a very good job because they quickly adapted the car to my style. We did some long runs too that were consistent and comfortable.
Q. The HRT hasn't always been the easiest car to drive this season. Did you find it okay to adapt to and to attack without it catching you out?
PM: It's not easy, but I think that to go at the limit no car is easy to drive. The team adapted the car to me and I was comfortable. At the end of the day, I made a lot of improvement every time I got in the car and built the confidence. The biggest difference was the grip, the downforce and the engine power. We can improve more, because you can always improve but I'm very happy with the day and we did more than 100 laps.
Q. You set some impressive lap times in comparison to Bruno Senna's qualifying pace from Saturday, even taking into account the fact that the track was faster. Does that suggest that you are close to getting the maximum out of the car?
PM: It's different moments and different conditions. But I think today was a complete day for us because we completed all of our plans. I especially got more confidence in the car on the long runs and after that I improved quicker. I had a good feeling in the car.
Q. Was it okay to drive over 100 laps physically?
PM: Yes. I feel good. At the end I was a bit tired, but I am okay now!
Q. Do you see today's running as a preparation for the Williams test tomorrow?
PM: For sure, because today was my first day so tomorrow is going to be a bit easier. It will be a different situation for us because it's another car. I will do my best, like today, and I will always try to improve.
Q. It's well-known that there is a chance of a race seat at Williams, so how are you approaching tomorrow? Is it effectively a trial?
PM: I will do my best to complete the plan of the test. I don't know at the moment what we will be able to try tomorrow - we will see. It's going to be hard. All of the others didn't do so many laps, maybe I did too much today, but it's going to be interesting to drive with them.
Q. What is the status of your possible Williams deal?
PM: There is a possibility. I don't know at the moment but we have to be in Formula 1 next year.
Q. So tomorrow could be a big day towards achieving that?
PM: Today was a big day. Today was very important because it was the first day after winning the GP2 championship. It was very good because I adapted immediately to the Formula 1 cars. We will see.
Q. Did you get the chance to do a decent number of long runs to get a feel for the car as the fuel load comes down and the tyres go through the graining process?
PM: Yes. I adapted myself well to the different conditions, fuel, tyres, hard and soft. It was great to work with the engineers because I did everything that they told me to. At the end I was improving all of the time that I was on the track, so that's positive.
Q. Looking at the lap times, you must have done some low-fuel runs. Were they proper qualifying simulations?
PM: We tried some different set-ups on the car with some different sets of tyres. It was great because I saw so many differences between the set-ups that we tried. The most important thing for me was that I gave good info to the team that can make an improvement.
Q. Do you feel ready for tomorrow's test now you have a day of experience in an F1 car on this track?
PM: Yes, I am ready for tomorrow.