Q & A: Mateschitz on Red Bull's titles
| | |
| --- | --- |
| By Gerhard Kuntschik | Tuesday, November 16th 2010, 15:07 GMT |
Just six years after it took over the Jaguar team to create Red Bull Racing, Dietrich Mateschitz's energy drink empire celebrated its first Formula 1 championship successes in recent weeks as RBR clinched the 2010 constructors' title and Sebastian Vettel added the drivers' crown in Abu Dhabi.
AUTOSPORT's Austrian correspondent Gerhard Kuntschik talked to Mateschitz after Red Bull's moment of glory.
Q. How did you see the 55 laps of the Yas Marina circuit?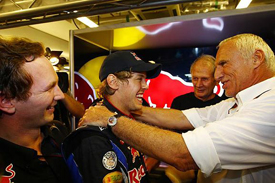 Dietrich Mateschitz: I was very nervous indeed. You cannot stay calm in a situation like this. It's only over when it's over, I guess Rambo said this. This time it was the same for us.
Q. Were you afraid after Korea that the championship had slipped away?
DM: No. As long as we had a mathematical chance to win it it was not gone. And we always believed. Everything seemed to be so close, almost in our hands, than the setback happened.
Before Abu Dhabi we tried to go through all possibilities and stopped at around 480. The actual situation that came up then wasn't even in our calculations. Even after qualifying we did not think it was over.
Q. How do you feel now as double world champion?
DM: Over the moon of course. I must confess it will take me some time until I will understand it properly. I know that our party in Hangar-7 will be chaotic, but it has a good reason to be so.
Q. You declared the world championship the clear goal for this season. Was everything just a matter of natural development and progress?
DM: When you finish second in last year's championship, just beaten narrowly, you have to set a new target. You have to improve. From second there is only one choice to step up.
With respect to all our opponents I truly believe we deserved these championships, even though the development of it brought a lot of turbulence and ups and downs.
Q. There were many voices in the paddock and in the media that criticised your decision not to interfere with the drivers and let them race each other, no matter what happens. Had you interfered in Brazil in favour of Mark Webber, Fernando Alonso would now be champion. Do you feel justified?
DM: Had we turned [the order] around in Brazil we would look very stupid now, wouldn't we? As I said before, this was never an option and it was good it came out like this. Finally everything turned out fine. All's well that ends well.
Q. What happens to the team next? There were rumours Mark might quit.
DM: Of course Mark will stay on, no doubt about it. The whole 'dream team' - maybe that's exaggerated, but I think it's true - will remain together. They all got even more bound together by that success.
I would say there is no one in the top levels of our team that had not received at least one offer from other teams. I do not know one who accepted this. Nobody let himself be tempted. I am sure this won't change after having won two titles. One thing is for sure however: in 2011 we will bet he hunted ones, not the hunters anymore.
Q. Who came up to congratulate you first?
DM: It was Norbert Haug, and this was a big joy for me. Bernie [Ecclestone] showed up already in the afternoon.
Q. Will you pay the team a bonus?
DM: Of course, as championship bonuses are written down in every contract. I guess we can afford this...
Q. In every contract including the receptionist and the cleaning staff in Milton Keynes?
DM: In every contract.