Q & A: Stoneman on F1 test debut
| | |
| --- | --- |
| By Edd Straw | Tuesday, November 16th 2010, 13:53 GMT |
Formula 2 champion Dean Stoneman got his first taste of Formula 1 when he had his F2 title-winner's prize test with Williams in Abu Dhabi today.
AUTOSPORT heard his thoughts about the experience straight afterwards.
Q. What are your impressions of F1?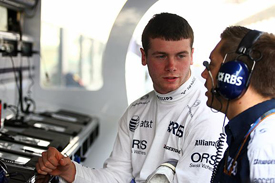 Dean Stoneman: It's different to what I'm used to. The fastest car I've ever driven was a World Series by Renault car and it has been a good experience today coming from that into an F1 car. The team has been great today, we've been working together making changes to the car and it has been a good day.
Q. You spent the morning doing aero work. Was it good to have that period to feel your way into driving the car?
DS: It was a good way to come in and to approach the test day instead of going hard into testing. It was good to build up to the test and then in the afternoon go for a time. But in the morning it was aero testing and helping the team before they go onto the new tyre.
Q. Were you able to attack right at the end of the day with some new tyres?
DS: Yes. We had a few new sets of tyres, but it's quite hard to push in an F1 car because there's so much aero on the car. It's knowing how much that will let you push and when it will bite. That was what I was doing throughout the day, pushing harder and seeing where the car was good and where it was bad. Towards the end of the day I was pushing more and more and seeing where I could make time up.
Q. So you are at the point where you want to go out and do another day right now?
DS: Yes. On the last lap, the first sector was my fastest but unfortunately the day has ended now. Hopefully I can do another day soon!
Q. How was the step from F2 to F1?
DS: It's really hard to know which championship to go into. The reason I went into F2 was the Formula 1 test prize. F2 is a great championship to progress from, but budget-wise it's the only option we had. I'm glad we took that route. Going from F2 to and F1 car is quite a big step. The difference between an F2 car and an F1 car is big with the aero.
Q. What's it like to drive for a historic team like Williams with Patrick Head looking on?
DS: Yes. It's a great opportunity to be here with these people and to be given the chance of driving an F1 car is not one that many people have.
Q. Did you get to try the car on different fuel loads or was it fairly consistent throughout?
DS: The fuel loads throughout the day were consistent. We were doing eight timed laps to get a feel for the car, seeing where I could improve, looking at the data and seeing where I could improve in certain corners and how I could improve.
Q. Have you learned a lot?
DS: I've learned a huge amount even from being here at the weekend on the Saturday, just roaming around watching the teams. We watched the F1 on TV, but being here with the right people and being noticed by important people is where we've got to be.
Q. What was the most impressive feeling about the car?
DS: In the morning, because I wasn't able to push I was restricted to 200km/h down the straight, so it was hard to know what to expect! I knew it was going to be quick, but the most impressive thing is the braking and the speed you could run into the corners.
Q. How many laps does it take to get used to it?
DS: I'm used to the car now but to get that last five per cent out of the car you might need three or four days just to keep chipping away and fine-tune the car.
Q. Is it just another racing car or is it a special feeling?
DS: It's a huge thing to drive a Formula 1 car. It isn't just another racecar, it's a different racecar to any other one. It's the best car you can drive.
Q. Which tyre compounds did you use?
DS: We used both the medium and the super soft. But around this track I didn't find a great advantage on the super soft because I'm not right on the limit of the car. But on the medium tyre I found the limit and was getting confident with it.