Domenicali reveals pain at title defeat
| | |
| --- | --- |
| By Simon Strang and Jonathan Noble | Monday, November 15th 2010, 11:13 GMT |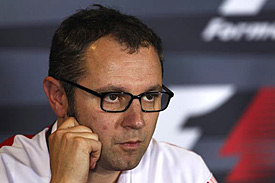 Ferrari team principal Stefano Domenicali has spoken of the pain he felt at watching Fernando Alonso lose the world championship in Abu Dhabi.
Alonso needed to finish fourth in Abu Dhabi to secure the crown. But having led the championship at the beginning of the weekend, a bad strategy call early in the race left him stranded behind Vitaly Petrov in seventh, leaving Sebastian Vettel went on to win the race and the title.
But in the aftermath of its title defeat, Domenicali insists that Ferrari must now regroup and come back stronger in 2011.
"First of all I want to congratulate Vettel with his title because I think it is important in this sport to recognise..." said Domenicali. "What I feel inside is for sure a lot of pain because when you arrive there and see you can do it, you feel very painful.
"And for sure it was the worst race of the year for us, so that is why it hits you very strong in your head. But after this moment the only thing you can do is try to disconnect, breathe a lot and recover the batteries to push the people to do a better job next year because we have all the elements to do it.
"We know that we can count on a group of people who have grown and need to grow again, and this is something I would like to say to Fernando - because he did a fantastic season. He always pushed the people to work, he never gave up and I feel sorry also for him, this is true."
Domenicali added that he believed that having only one driver in contention for the world championship, had actually put his team at a disadvantage to combat Red Bull in the final round, as opposed to the other way around.
"If you remember I said that - trying to be smart and covering two cars is much harder than trying to cover one," he explained. "This is for sure a point of when you are there, and when you win the title of constructors' it means you have to cover closer to win the double. But that is true."
He also batted away continued questioning about the legacy of the team orders controversy from Hockenheim.
"In England maybe, but in the rest of the world it was not an argument any more since two days after that discussion.
"Germany is like another grand prix. It was a first and second for Ferrari as it was another race for Red Bull. Honestly I am really serious about it – and I don't know why in a certain country, and it is England to be honest with you – there is this certain weight on the shoulders because honestly you need to have the perception not only of what is happening there but what is happening around the world.
"That is my personal view without any negative comments about anyone – if you understand what I mean.
"In my view there was a debate and it was too long for nothing – and honestly we were speaking of nothing because unfortunately I had to say that Vettel won by four points."