Petrov: No qualms about racing Alonso
| | |
| --- | --- |
| By Jonathan Noble | Monday, November 15th 2010, 09:29 GMT |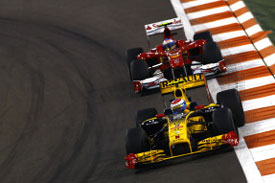 Vitaly Petrov has said he could understand Fernando Alonso's frustrations with him after the Abu Dhabi Grand Prix - but reckons the Spaniard should actually be angrier with his team and its strategy choice.

Alonso gesticulated at Petrov on the slowing down lap after the Renault driver defended brilliantly against the Ferrari driver for most of the Yas Marina event – denying Alonso the chance to move further up the order and take the points he would need to become champion.

Although well aware about the impact his drive had on the title outcome, Petrov said he'd had no second thoughts about holding the Ferrari back.

"I do my own racing," said Petrov. "I did my race; I did the maximum performance that I could take for his race. I cannot just let one car pass me because it is racing.

"Even Sebastian Vettel in 2008, he was behind [Lewis] Hamilton [in Brazil] and then he passed Lewis, who almost lost the championship. But he was lucky because [Timo] Glock was so slow. He also was not thinking about who he was battling with.

"So I did not do anything. I just tried to keep pushing. I just did my race. I know Ferrari is still quicker than us with the downforce, but this track is very difficult to overtake."

Petrov said there was little point in speaking to Alonso after the race to talk about the events.

"I think he was angry," he said. "So I think there is no reason to talk to him right now.

"But I would be in the same condition if it happened to me. If I was in his situation I would also be angry, but he should be angry with himself or with his team because they did maybe the wrong strategy or something."

When asked if he saw Alonso's gesture on the lap back to the pits after the chequered flag, Petrov said: "Yes, but he was angry of course. But what can I do? I did my race.
"If he got close enough to attack quite aggressively, I would maybe not fight too much because I did not want to touch with him because he is fighting for the championship. He was just once close enough for attacking.

"I closed normally my position and then I was driving normally around the circuit, and he did not have any opportunity to overtake me, as this circuit does not give you any chance."

Petrov also denied that Renault's staunch defence was aimed at helping the Renault-powered Red Bull team clinch the drivers' title – although he joked that he should have cut a deal with either Vettel or Alonso.

"Maybe I should have asked on my team radio, please ask Vettel how much he wants to pay me to help, and then we go to Ferrari and ask them the same too. Then whoever gives the most, we see!"