Vettel defends Red Bull's fairness
| | |
| --- | --- |
| By Jonathan Noble and Matt Beer | Thursday, November 4th 2010, 21:11 GMT |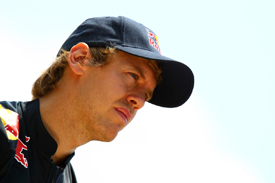 Sebastian Vettel says he sees no evidence of Red Bull showing any favouritism towards him, despite team-mate Mark Webber's suggestion that it was the young German who had the team and its parent company's 'emotional support'.
Webber is currently the leading Red Bull driver in the world championship, but both men still retain a title chance going into the final two rounds, with Webber 11 points behind leader Fernando Alonso and Vettel 25 down on the Ferrari driver.
Vettel said he could not understand why Webber felt he lacked support.
"Obviously there have been a lot of things being said already. I don't know what he's said now," said Vettel. "Everyone has his own opinion, but for me we both have the same chance every weekend to do well.
"The team supplies us with a very good car and that's ultimately the situation that you want to be in - having a car where you can win races and felt for podiums."
The German suggested that it had been him, rather than Webber, who had suffered the majority of Red Bull's mechanical issues this year.
"I think I had lots of ups and downs this year. If something broke, then it tended to break on my car," said Vettel. "But do I think there is any conspiracy in the air? No, it's the last thing I think about."
Although Red Bull has been adamant that it will not employ team orders, team boss Christian Horner acknowledged today that some level of strategy might be employed if the championship situation demanded it.
But Vettel said there had been no discussion of the issue so far and that the initial focus was just on being fast enough to try and win.
"Today it's Thursday and we haven't done a single lap so first we have to prove we're competitive, then we can talk about winning or getting a decent position on the grid," he said.
"There are a lot more important things to do before we reach that [team orders] stage, so that's what I'm focusing on now and not thinking about anything that might happen, or helping, or whatever.
"We'll have to decide in whatever situation we might be in."
He is still confident that the title is a realistic possibility for him.
"The chances have been better in the past, looking at the points, but the chance is still there - that's the most important thing," said Vettel.
"I think my season has been pretty up and down. Considering that, I think it was a little miracle that we are still in a pretty good position and able to fight for the championship.
"There are two races to go. I think we have seen this year, more than many other years, how quickly things can change, so I'm full of hope, we are full of hope and the only thing we can do is get too very strong results in.
"And then we need a bit of luck and it depends on the others and where they finish to find out our final championship position. But we are willing to fight and for sure we won't quit."