Webber '110 per cent' ready for fight
| | |
| --- | --- |
| By Pablo Elizalde | Thursday, November 4th 2010, 17:36 GMT |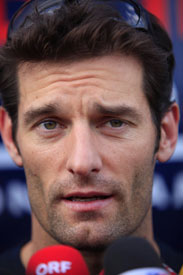 Mark Webber says he is feeling "110 per cent ready" to fight for the championship in the final two races of the season.
"It's crunch time: we have two races in the space of eight days, at the end of which we'll know the identity of the 2010 world champion," said Webber on his website ahead of the Brazilian GP.
"It doesn't get bigger than this and I feel 110 per cent ready for the fight," added the Red Bull driver, who lost the championship lead in the previous race in Korea after spinning off the event.
The Australian is adamant, however, that the championship is far from decided.
"Having led the world championship for several races, I go to Brazil second in the points' standings after a rough weekend in Korea. Fernando leads the championship by 11 points, but there are 50 still on the table so there's everything to play for.
"I'm not going to change my approach; I'm going to do my best and let the maths take care of itself."
Webber, who won last year's Brazilian Grand Prix, is confident his Red Bull car will again be competitive this weekend, and admits this would be the perfect time to win again.
"I'm confident that the RB6 will be competitive, although you're always a bit nervous about your pace during the build-up to an event," he added.
"The car has been quick everywhere this year and I see no reason why it should be any different here, but we'll have to wait until the on-track action starts to know for sure.
"More than anything, I need a clean weekend here. The weather forecast looks a bit iffy on Saturday, but it'll be the same for everyone. I can think of no better time to take another victory than now; you can be sure that I'll do everything in my power to achieve that."