Mosley: Todt must be given chance
| | |
| --- | --- |
| By Simon Strang | Thursday, October 28th 2010, 22:05 GMT |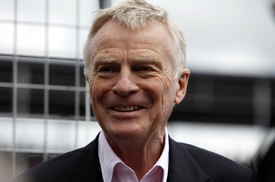 Former FIA president Max Mosley says the man who replaced him a year ago, Jean Todt, must be given the opportunity to make his mark on Formula 1, and has ruled out a return to a position of governance in the sport.
F1 supremo Bernie Ecclestone told BBC Radio 5 Live in an interview to celebrate his 80th birthday that it would be nice to have Mosley back in action, suggesting that he could have a future role in the motoring side of the governing body.
But on the same programme, Mosley indicated that F1 was now in the past for him.
"I think my Formula 1 days are finished and I have moved on to other things," he said. "Obviously watching with interest, but one should never go back.
"It's very nice of him [Ecclestone] to say that, but the fact is that Jean has taken over and I pushed very strongly for Jean under a certain amount of criticism and I think Jean will get the job done. And I want him to succeed because I am responsible really for him being there and the last thing I want to do is interfere with what he is doing now.
"He must be given a chance to get on and run it in his own particular way, which obviously will be different from the way I ran it, probably better in many respects. So I think it is a nice idea, and it is very friendly of Bernie to say 'come back', but the truth is it would not be the right thing for me to do."
Mosley added that speculation over the past weeks that he is seeking to ramp up his interest in F1 once more, was just that.
"It's completely rumour," he said. "I follow it vaguely at a distance and I have felt still responsible this season - if something went wrong it would still to some degree be my responsibility, Whereas when it gets to next season it will be sufficiently far away that I will say, well, it is not for me.
"I am really now just as ordinary fan, I put the television on, watch it, but it is no longer my responsibility."
Mosley said that he had not missed the sport since standing down last October: "I really wanted to stop in 2004, in fact I did stop, I resigned. And then they said you can't go because there needs to be a succession. Although I had got in mind that Jean Todt should takeover and he'd agreed.
"The plan was that in 2005 he would takeover but in the end he couldn't because he was given the whole job at Ferrari. So I went on longer than I wanted to and I was ready to go by the time I left."
During his own interview, Ecclestone sung Mosley's praises and suggested the former barrister could play a bigger role in motoring, with current FIA president Todt focusing solely on sporting matters.
"I didn't want him [Mosley] to go," Ecclestone said. "It would be nice to have him back.
"I suppose we could go back and have what we called FISA and Max could be president of the FIA and Jean could still be president of FISA running the sporting side," said Ecclestone.
Asked how he thought F1's teams might respond should Mosley return to prominence, Ecclstone replied: "I don't think the teams would mind. I mean you ask anyone now if Max comes back as president of the FIA would they complain and I think they would say no."
Ecclestone, whose comments came ahead of the FIA's general assembly meeting in Paris on November 5, added that he was pleased that Todt had left F1 pretty much alone since taking charge.
"He has been busy doing other things and he has left Formula 1 to get on with it, which is quite right because it is in pretty good shape generally FIA-wise," he said. "So I think he understands that and I think he is happy that we are looking after the championship."