Horner says Webber criticism 'absurd'
| | |
| --- | --- |
| By Matt Beer | Wednesday, October 27th 2010, 14:44 GMT |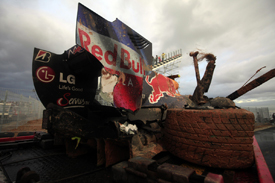 Red Bull Racing boss Christian Horner has vehemently dimissed allegations that Mark Webber actively tried to take out a title rival by sliding back across the track in his Korean Grand Prix accident.
Webber lost his championship lead when he spun out of second place at Yeongam only one lap after the race finally got underway. Having clipped the wall, his car then collected Nico Rosberg's Mercedes as it rebounded off the barrier. Fernando Alonso managed to dodge past the Red Bull moments earlier.
Former grand prix driver Gerhard Berger has been quoted as having suggested to Austrian television that Webber let his car roll back across the road because he hoped to eliminate one of his championship rivals, with Lewis Hamilton running behind Alonso and Rosberg on the road at the time. Rosberg has also criticised Webber via his Twitter feed, saying the Australian was "crazy" not to hit the brakes.
But Horner says his driver's only consideration was to try and spin-turn and rejoin, as he had not immediately realised that his car was too damaged to continue.
"As with every incident in Formula 1, opinions will always be made without all the facts," Horner told the Daily Telegraph.
"Just to be absolutely clear - Mark's intention was not to take out another driver after his crash in the Korean Grand Prix and it's ridiculous to suggest otherwise.
"After Mark's impact with the wall, it was clear on the TV and from the data that his car was badly damaged. However, the natural and immediate instinct of any competitive driver is not to give up and to keep going.
"In the atrocious conditions, Mark made the snap decision to continue as every driver would in that situation - it's absurd to suggest that Mark would ever deliberately take out another driver.
"Mark accepted immediate blame for this incident, which in itself deserves credit."
Webber's retirement and Alonso's victory in Korea means that the Australian has gone from a 14-point championship lead prior to the race to an 11-point deficit with two rounds to go.