Korea promises better job in 2011
| | |
| --- | --- |
| By Jonathan Noble | Tuesday, October 26th 2010, 16:48 GMT |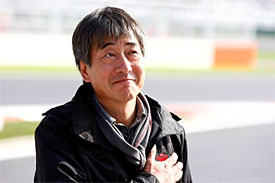 Korean Grand Prix organisers have promised Formula 1 that they will do all they can to improve its track and infrastructure for next year.
Although the inaugural event drew praise from the F1 community last weekend, there were still areas singled out that needed sorting out - including unfinished areas of the circuit, the pitlane entry and exit, plus the lack of good quality accommodation near the circuit.
Race promoter Yung Cho Chung has told AUTOSPORT that he is not shirking away from the fact that he knows Korea needs to do a better job next year - and he is ready to knuckle down to do all it takes.
"I realise that I have some weak points that we will sort out for next year, but I am very happy to do this," he said in an exclusive interview.
"We need to think about the roads around the track, I think we can help improve the accommodation and we will have some better systems in problem. I know there were a couple of problems at some of the corners at the track, and we also need some more grass by the trick with some more work on the grandstands.
"I know the work that we need, and we will do it."
Chung said that moves would be made to try and build new hotels near the circuit in time for 2011 – while approval has been given for the construction of commercial areas and the new marina at the recently finished track.
He also apologised to fans who were forced to abandon cars on the roads into the track on Sunday as huge traffic jams prevented people being able to drive into the circuit in time for the race.
"I heard there were still cars outside when the race was on, and people left their cars to come in," he said. "I am terribly sorry for them. I think we have to find a solution, and it is a problem we can make better for next year."
Chung was also encouraged by the feedback he got from newly elected South Korean prime minister Kim Hwang-Sik, who visited the race on Sunday.
"The Prime Minister was so happy and he learned a lot about F1," he said. "He loves it and normally he would not have stayed until the end of the day, but he was there late on and wanted to give out the prizes on the podium. I think he has realised how important this race is."
Chung also revealed that he was worried the race itself would not start following the bad weather that hit the track before the scheduled 3pm start time.
"I was so worried when we did the two laps and then they stopped it," he said. "I was worried the race would be cancelled. It was tough for me because new fans came here after three hours driving from Seoul and Pusan, and they then waited five hours because of rain!
"But Mr. [Bernie] Ecclestone showed how strong Formula 1 is, and I think we did a record with a race of two hours and 48 minutes! That has never been done before and people loved it I think."
Chung estimates that there were up to 100,000 people at the track on Sunday, following crowds of 62,000 on Saturday and 42,000 on Friday.