Heidfeld: Korea conditions 'worst ever'
| | |
| --- | --- |
| By Edd Straw | Tuesday, October 26th 2010, 09:00 GMT |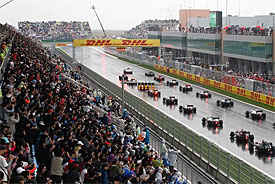 Formula 1 drivers faced the worst conditions they had ever experienced in the early stages of the Korean Grand Prix.
That is the view of BMW Sauber driver Nick Heidfeld, who says the FIA did the right thing in bringing out the red flag after seeing just how bad visibility was early in.
When asked if he echoed comments by Fernando Alonso over his team radio that conditions were the most dangerous he had known, Heidfeld told AUTOSPORT: "I agree and that is what I said on the radio, because Charlie [Whiting, FIA race director] is listening. I think he had 24 drivers shouting the same thing in his ears!
"I said also it was the worst conditions I had ever driven in. And just before he red flagged it, I said they have to red flag it. It was hard from the outside to understand why it was so bad, as when we stopped and got out it looked like a tiny bit of drizzling. But in the car the visibility was zero.
"The only problem was the visibility because there was a little bit of water. Driving alone it would have been easy to drive."
Heidfeld believes Whiting made all the right calls on Sunday to ensure that safety was not compromised by the need to get the race going for television audiences.
"Charlie is not in an easy position," he said. "Of course everyone wants to see a race and we have to have a show, but he is looking at safety as well.
"From where he sits compared to what we see is very different, so for him to make a decision is very difficult. I thought it was a great decision to start behind the safety car - as it gave us chance to see the visibility.
"It's not very often we start behind the safety car and then it is red flagged so my compliments to him - I think he did the right job."
Bridgestone's director of motorsport tyre development Hirohide Hamashima said the problems early in the race were caused not by the amount of rain falling but that the track was not draining quick enough.
"The problem was the water draining away," he said. "The surface was actually okay, it is quick drying, but the water was just not getting off the track.
"The standing water was not so deep, but the drainage wasn't so good – so there was too much spray."