Red Bull unmoved by flexi-wing saga
| | |
| --- | --- |
| By Jonathan Noble | Tuesday, October 12th 2010, 10:24 GMT |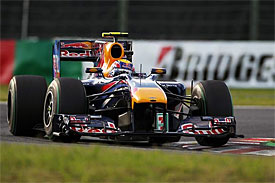 Red Bull Racing has brushed off continued sniping about its front wing - and thinks teams should only be judged by what happens on track rather than what their rivals say about them in the press.
Although the RB6 has passed increased load tests introduced at the Italian Grand Prix to try and bring an end to fears some outfits were running flexible body parts, the matter erupted again in Japan last weekend when teams were again suspicious that Red Bull Racing's front wings appeared to be running lower to the ground than their rivals.
Mercedes GP team principal Ross Brawn believed the situation perhaps now means F1 should consider further revisions to the load tests used on both the wings and floors.
"I think the difficulty is that those tests, people comply to those tests, but if the teams and the FIA feel that things are not correct then we have to change the tests. If the teams feel, and the FIA feels, that there are some abnormalities, then we have to change the tests."
Red Bull Racing team boss Christian Horner was unmoved by the fresh focus on his team's front wings - and said he thought the current loads applied to the wings were good enough.
"At the end of the day two people equivalent to the size of Ross [Brawn] stand on each side of the front wing to pass the test – and the cars passes," said Horner.
"It complies with the regulations and our technical guys should only take it as a compliment because, at the end of the day, the car fully complies.
"And it is down to what you do on the track and not what you say in the press."