Drivers waiting on Korean GP news
| | |
| --- | --- |
| By Jonathan Noble and Pablo Elizalde | Thursday, October 7th 2010, 09:53 GMT |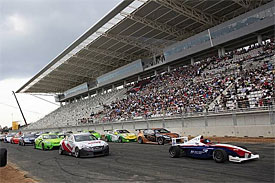 Renault driver Robert Kubica says he is bracing himself for the worst at the Korean Grand Prix, as doubt continues over the readiness of the circuit in time for the race.
"I think it's a bit of an abnormal situation to go to the track where there were no races and to go to a track that may not be raceable," said Kubica ahead of the Japanese grand Prix.
"But I think because we know exactly what is the state and how difficult it is for an organiser to prepare the grand prix somehow you will be prepared in case something is wrong or something needs to be improved after the Friday running.
"I think it's a bit strange but it's the same for everybody. I just hope there are no big problems there, although the Tarmac being laid so late might create some problems. But we will see.
When asked if he expected the race to take place, he said: "I don't know. I think it will not happen but it might happen. I don't know. To be honest it's difficult for me to judge. I'm not a specialist.
"It will be interesting, a bit funny, I would say, but to be honest I don't know what to expect. It's better to expect the worst and then be surprised than expect everything to be perfect and then be badly surprised about the state of the track. I just have a couple of pictures from last week, so..."
The Pole reckons, however, that the teams will have to travel to Korea because it would be a disaster for Formula 1 to cancel the event now.
"It's good for F1 to go to different countries, but on the other hand it would be better to go to stable grounds, where we know there will be a race and everything," he said.
"I think Formula 1 has to go to Korea, because F1 cannot afford such a big flop like cancelling the race two weeks before it, but definitely it is not the perfect situation. But it's difficult to have everything sorted out in life so we have to somehow accept that and try to do our best there."
Williams driver Rubens Barrichello admitted he was anxious about the result of the FIA inspection next week, but made it clear he will feel safe at the track as long as the governing body approves it.
"I think we are in good hands with the FIA," he said. "If they approve for it to go on, that's because it's safe to do so. Maybe the infrastructure will be bad and the roads and the hotel, but if the FIA approves the race to go on, that will mean it is safe to do so. As a chairman of the GPDA, I wouldn't have a problem.
"I'm quite anxious to see whether it gets the 'green' or the 'red' [from the FIA inspection]. But I think on the drivers' side we're quite clear that if they say it's okay, then we're going to be okay.
"If we would ever get to a place that we say is not safe, anything can happen. I'm not saying 'oh yeah, the drivers will go there and strike', because that's not the favoured thing to do. It would be a huge mistake to say 'yeah, commercially [speaking] we'll go there', but the track is not ready, and I don't think they would ever let that happen."
Ferrari's Fernando Alonso believes the Korean event will take place, but said it would not be a big concern if the race is cancelled because his championship situation has improved.
"I think personally we will race in Korea. We have no other news - the teams or drivers, we think that it is all confirmed. I know there is an inspection soon but I think will be okay. If not, to be honest, it is not a big worry for us at the moment.
"We are not fifth and as you said that is the worst possibility if you have one race left. But if you are in the top three, it doesn't change too much with the points system that we have this year. We will see what happens."
The Korean Grand Prix is scheduled for October 24, with the FIA inspection expected after this weekend's race at Suzuka.