Alonso braces for 'pain' in next races
| | |
| --- | --- |
| By Jonathan Noble | Monday, October 4th 2010, 08:50 GMT |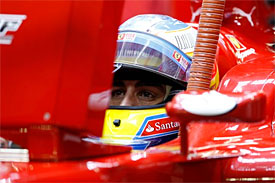 Fernando Alonso believes he and Ferrari must brace themselves for some 'pain' in the next few races if they are to come out on top in the closely-fought world championship battle.
The Spaniard's triumphs in Italy and Singapore have thrust him firmly into the five-way contest to win the title this year - with his championship chances having looked quite slim earlier in the campaign.
But despite Ferrari's resurgence, Alonso feels that he and his outfit have not yet experienced how tough this title battle is going to get.
"I have kept in touch with the team all the time and I know that in Maranello, everyone is delighted with [the Singapore] win," Alonso told Ferrari's official website. "That's how it should be and I'm happy too, even if I know the hard part is still ahead of us.
"These two consecutive wins have reduced the gap that had built up but we are definitely not leading yet. Now it starts getting serious, we will have to experience some pain and it is time for everyone to give their all, without taking a single backward step.
"There are still five drivers in the hunt for the title. So many times this year we have seen that the situation can change really quickly, so anything could still happen. What is certain is that if any of the five put a foot wrong, then it will be even harder for them. I stick with my belief that the key is to always finish on the podium and then do the maths in Abu Dhabi."
Despite keep his ambitions in check ahead of the final four races of the campaign, Alonso says he does take heart from the fact that his Ferrari has appeared competitive on both low and high-downforce tracks in recent weeks.
"The wins in Monza and Singapore inspire confidence, especially as they came after a difficult season, in which our championship chances have often hung by a thread," he said.
"Winning on two very different types of track confirms that our car is very versatile and so we can tackle the coming races without any fear."