Brawn: Schumacher has not faded
| | |
| --- | --- |
| By Matt Beer | Wednesday, September 29th 2010, 11:10 GMT |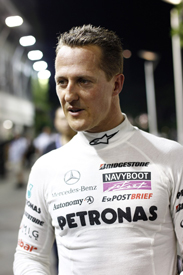 Mercedes GP team boss Ross Brawn is adamant that Michael Schumacher's talent has not diminished at all during his lay-off, and that it is only a lack of harmony with this year's tyres that is holding the German legend back.
Schumacher's lack of success so far in his comeback has been one of the biggest stories of the 2010 season. The seven-time champion has been outpaced by his Mercedes team-mate Nico Rosberg and has only finished in the top six on three occasions.
This has led to suggestions that Schumacher's abilities faded in the three years between his original retirement and his return to the track, but Brawn denied that this was the case and thinks the true picture is being masked by the Mercedes' shortcomings and the Bridgestones' quirks.
"If you take the telemetry data in fast corners or his reaction time when the car breaks away, I don't see any difference [to before his retirement]. There he's still the old Michael," Brawn told the official Formula 1 website.
"But in the slow corners he cannot make full use of the tyres as Nico can. Nico has put the bar very high in this respect. But I guess that's okay for Michael as he clearly sees where he has to improve. I predict that in 2011 we will again see the true Michael - when we've delivered him a better car."
He reiterated his belief that it is mainly discomfort with the current front tyre characteristics that is hampering Schumacher.
"Michael's driving style depends on a strong front tyre that can withstand his hard braking and the steering manoeuvres that he prefers," Brawn explained. "Nico has simply understood better how to handle these front tyres.
"I have to say that this year's front tyre is very uncommon. That stems from the fact that the FIA wanted to promote KERS and had asked Bridgestone to develop tyres that would fit a certain weight distribution and thus create a specific tyre characteristic."
But Brawn admitted that if anyone else was underperforming to the extent that Schumacher is this season, they would probably lose their drive.
"To be honest, probably not," Brawn replied when asked if Schumacher would have been retained on the basis of his 2010 form if he did not have such an incredible reputation.
"But because we know Michael, we know that there is still a lot to come because Michael is in many fields more talented than others - in driving and in the cooperation with the team. The team are very happy with the way Michael is contributing.
"If he were a rookie we surely would have asked ourselves if he has the capacity to advance. With Michael we know that he has."
He added that the only difference he could see in Schumacher since his comeback was that the German was handling adversity better.
"He has become more relaxed," said Brawn. "Five years ago he would have found it terribly difficult to handle such a situation.
He's much cooler and much more mature - and that doesn't mean that he is less ambitious or committed. I am really impressed with how calm he stays."