Q & A with Lewis Hamilton
| | |
| --- | --- |
| | Wednesday, September 29th 2010, 10:29 GMT |
Conducted and provided by Lewis Hamilton's website
Q. Another retirement must be desperately disappointing for you.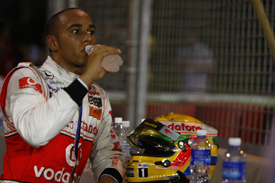 Lewis Hamilton: It is. But you just have to put it behind you. And there were different circumstances behind each incident. I've already said that I was probably a bit too opportunistic in Monza; but, in Singapore, I've seen the replay and I was half a car-length ahead of Mark, and on the racing line. It's just very frustrating that in Italy, I tapped the car in front and it broke my front suspension, and in Singapore, the car behind tapped me and punctured my tyre. I've been unlucky both times.
Q. It's your third non-finish in four races - is that starting to get to you?
LH: No. On Sunday night, I was obviously exceptionally disappointed - it's always difficult to get your head around things when you've just retired from a grand prix - and it takes time to come to terms with that. Clearly, it's not been a good run of results, but I don't look at those races and think what might have been, or what additional points I might have if I'd finished. There's no point. You just need to look at the situation facing you, and work your hardest to do your best.
So I don't look at my retirements in Spain, or Hungary, or in the last two races as what's been lost. I'm just looking ahead at the next four races - I haven't won at any of those tracks, so I'll be even more motivated than ever to make amends for that.
Q. Are you beginning to think this isn't going to be your year?
LH: Absolutely not. I spoke with the team on Sunday night, and we looked at things in their proper perspective: I'm still third overall in the points table, and I'm 20 points off the championship leader. That's still less than a race win - it's easy to get disheartened by being 20 points away, because it sounds such a lot, but under last year's rules, that's only about eight points - and to be eight points off with four races left is nothing really.
Q. Will these two recent collisions change your approach?
LH: No. I'm a racer. I always race my heart out, and nothing will ever change that.