Red Bull expects battle to the wire
| | |
| --- | --- |
| By Jonathan Noble | Monday, September 27th 2010, 10:59 GMT |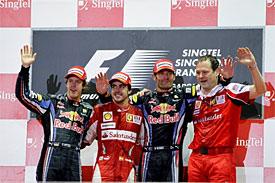 Red Bull Racing team principal Christian Horner expects that the world championship fight is going all the way to the season finale in Abu Dhabi.
With none of the five title contenders having so far been able to eek out a decisive lead in the points' standings, Horner says there is every reason to believe the battle is going to go all the way to the end of the campaign.
"I think it is almost inevitable with the way it has swung backwards and forwards that this will go right down to the wire in Abu Dhabi," said Horner after the Singapore Grand Prix.
"I sincerely hope it doesn't and I sincerely hope it is one of ours that ties it up well before that. But the likelihood is that with the quality of drivers and teams involved, this will go down to the wire."
Although Red Bull Racing is the most recent victor at three of the last four races - in Japan, Brazil and Abu Dhabi - Horner does not believe that gives it any kind of advantage for the final events.
"I think the pace of development is so fast in F1 that we are going two seconds a lap quicker than this time last year," he said. "So it will all be about who develops the most efficiently between now and the end of the year.
"We brought some good components to Singapore that worked, and we will be pushing very hard at each of those remaining four races. Because we have won a couple of them previously does not guarantee anything. It is a reassuring factor, but almost irrelevant."
Horner also thinks it is important that Red Bull Racing does not worry too much about the fortunes of its rivals - and instead focuses wholly on improving its own performances.
"You have to approach every race, race by race, as we have here," he said. "We have scored more points than any other team. We have closed the gap with Sebastian and extended the lead with Mark, so I think we have just got to address each race as it comes and make sure we maximise our performance.
"If we do that then hopefully we will be in good shape when we arrive in Abu Dhabi."