Hulkenberg given 20-second penalty
| | |
| --- | --- |
| By Pablo Elizalde | Sunday, September 26th 2010, 17:43 GMT |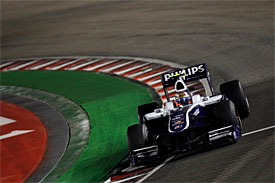 Nico Hulkenberg has been handed a 20-second penalty following a protest by the Force India team in Singapore.
The Silverstone-based squad protested against Hulkenberg after its own driver Adrian Sutil was given a 20-second penalty for having gained from going around the outside of Turn 7 on the opening lap of the race.
The team felt the Williams driver has also gained from cutting a corner.
Sutil, who had finished the race in eighth, was demoted to 10th, but has now moved to ninth following Hulkenberg's penalty.
The Williams driver, meanwhile, drops to 10th.
The penalty means Force India is back in front of Williams in the Constructors' Championship. Force India has also confirmed it has withdrawn its protest against Sutil's penalty decision.
Ferrari's Felipe Massa, having finished in 10th, moves up to eighth.



REVISED RACE RESULTS

Classified:

Pos  Driver        Team                    
 1.  Alonso        Ferrari
 2.  Vettel        Red Bull-Renault
 3.  Webber        Red Bull-Renault
 4.  Button        McLaren-Mercedes
 5.  Rosberg       Mercedes
 6.  Barrichello   Williams-Cosworth
 7.  Kubica        Renault
 8.  Massa         Ferrari
 9.  Sutil         Force India-Mercedes
10.  Hulkenberg    Williams-Cosworth
11.  Petrov        Renault
12.  Alguersuari   Toro Rosso-Ferrari
13.  Schumacher    Mercedes
14.  Buemi         Toro Rosso-Ferrari
15.  Di Grassi     Virgin-Cosworth
16.  Kovalainen    Lotus-Cosworth




Revised World Championship standings, round 15:                

Drivers:                    Constructors:             
 1.  Webber       202        1.  Red Bull-Renault          383
 2.  Alonso       191        2.  McLaren-Mercedes          359
 3.  Hamilton     182        3.  Ferrari                   319
 4.  Vettel       181        4.  Mercedes                  168
 5.  Button       177        5.  Renault                   133
 6.  Massa        128        6.  Force India-Mercedes       60
 7.  Rosberg      122        7.  Williams-Cosworth          56
 8.  Kubica       114        8.  Sauber-Ferrari             27
 9.  Sutil         47        9.  Toro Rosso-Ferrari         10
10.  Schumacher    46       
11.  Barrichello   39       
12.  Kobayashi     21       
13.  Petrov        19       
14.  Hulkenberg    17  
15.  Liuzzi        13       
16.  Buemi          7       
17.  De la Rosa     6       
18.  Alguersuari    3       
       
All timing unofficial