Red Bull duo still free to fight each other
| | |
| --- | --- |
| By Jonathan Noble and Gerhard Kuntschik | Saturday, September 25th 2010, 08:13 GMT |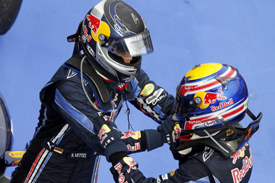 Red Bull Racing duo Mark Webber and Sebastian Vettel have been told they remain free to fight it out wheel-to-wheel for the world title, despite their team admitting it was considering imposing a number one after the Italian Grand Prix.
Webber and Vettel could well be left in a fight of their own at the front of the field in the Singapore Grand Prix judging by their dominant pace in second practice - and that poses a risk of a repeat of earlier incidents that have cost the team vital points.
But despite the possible dangers, and the fact Vettel is 24 points adrift of Webber, Red Bull Racing's boss has said that there is no consideration to throw all the team's efforts before Webber at the moment.
"Monza hasn't changed anything," Red Bull owner Dietrich Mateschitz said. "We support Mark and Sebastian as always. They are free to race. As long as one of them is not out as a championship contender, we will not interfere at all."
Mateschitz's comments come after his motorsport advisor Helmut Marko revealed that Red Bull Racing was considering a change in its tact if Webber had finished well ahead of Vettel at Monza.
"Had Mark won in Monza and Sebastian retired, we would have had some discussion. But this was not the case," he said.
Marko also said that Vettel was more than capable of hauling himself back into the title chase despite having hit trouble at several points this season.
When asked if the team would do something to help Vettel's mental approach, Marko said: "He for sure does not need this kind of support; this would fit better with some other people. Vettel knows he is in one of the best cars around and tries hard, that's it."
Speaking about Red Bull Racing's title rivals, Marko said: "From pure speed I think Jenson [Button] is not quite there where the others are, but he is excellent in race strategy and tactics.
"Ferrari would not normally be in contention with their ups and downs in performance. But [Fernando] Alonso can never be ruled out. He will not give up as long as he sees even a minimum chance."