McLaren eager to stay ahead on '11 car
| | |
| --- | --- |
| By Matthew Hobbs and Steven English | Wednesday, September 22nd 2010, 12:50 GMT |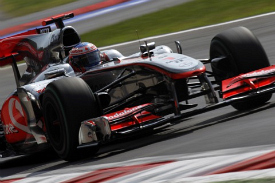 McLaren is confident that it can avoid a repeat of last year, when pushing for the 2008 title just before new regulations came into force meant it started the following season off the pace.
After focusing the majority of its resources on the '08 title fight, protagonists McLaren and Ferrari were left by the wayside at the start of '09 by teams that had diverted their attention earlier in the season.
This year Red Bull, Ferrari and McLaren are fighting for the title, and none of them can afford to halt development of this year's car. At the same time, the raft of technical changes for 2011 (including moveable rear wings and the change to Pirelli tyres) promises to provide another opportunity for other teams to close the gap.
"We have a separate development team working on the 2011 car," said principal race engineer Philip Prew. "They're obviously eager to have resources and wind tunnel time, equally, those of us that are still occupied with this season are still pushing hard to continue the development.
"It's just one of the balancing acts that, thankfully, we've had to make for the last few years."
Prew says that with so little of the season left, there will be no new major developments. Instead the team is tweaking what is already in the pipeline.
"We have upgrades coming through, but to start a brand new project at this stage, it would be very difficult to design, develop and implement it," he said. "We just have to get the best bang for the buck in terms of time we commit to the current car.
"The reality is that now the time to produce new components is getting shorter, so our focus is on fully exploiting the components we have to get the best performance out of them. "It's a balance that's always difficult to find."