| | |
| --- | --- |
| Stoner calls for Honda unity | |
| | |
| --- | --- |
| By David Emmett and Matt Beer | Tuesday, September 21st 2010, 08:07 GMT |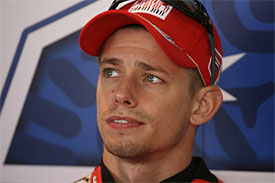 Casey Stoner has urged his 2011 employer Honda not to operate a split garage, and insisted that Dani Pedrosa has nothing to fear from Stoner's former Ducati boss Livio Suppo if the Italian takes charge at Honda.
Suppo joined Honda from Ducati in a marketing role last year, but there have been suggestions that he could reprise his former team manager position at his new squad to coincide with Stoner's arrival next season.
This is reported to have met with resistance from Pedrosa's camp. Like Yamaha, Honda currently runs virtually separate teams for its two works bikes with each having an individual team manager - a situation Pedrosa sees no need to change.
"I think right now the structure is good. It's working perfectly," he said.
"You can see we were struggling quite a lot at the beginning of the year. We got lost with the bike, and with the current structure we did a great job and now we are doing well. The situation, I think, couldn't be better."
But Stoner is adamant that he does not want to be working with a split team.
"Most teams these days, other than Suzuki and Ducati, have two different team managers for each side," he acknowledged. "We're all about the team here [at Ducati].
"They're not teams, they're freaking split down the middle and all this sort of stuff. They're two completely separate sides under the same brand.
"I think if you're going to ride for a team, you may as well be a team player. I've got no issues."
He admitted that the apparent tension over the 2011 Honda structure had come as a surprise to him.
"At the moment it's nothing to do with me," said Stoner. "When it gets sorted, then we can understand.
"At the moment there seems to be some conflict in the team. I don't know why. I'm not even there yet... So really I can't say anything on that matter.
"I have my contract with Honda and I was the first to sign this year, so no problems for me."
Stoner denied that Suppo had been instrumental in signing him - and insisted that his former Ducati boss would be totally even-handed at Honda.
"I think Livio's about the best one [for fairness] in the whole paddock, to be honest," said Stoner.
"The perfect example is when he was with Marco Melandri [at Ducati in 2008]. Marco complained about a lot of things to do with the bike, but Livio worked so hard. He changed people, did everything he could to get everything working inside that team.
"I didn't see him on my side of the garage because when everything was going well, he didn't need to be there. He was working as hard as he could for... I don't want to say it, but... the weakest link of the team.
"Livio isn't what everyone thinks he is. He's not working for me.
"Honda was interested [in me] from the beginning. My contract was up and he was absolutely nothing to do with it."
Pedrosa added that as far as he was concerned, there had been no firm decision about whether the team separation would be kept for 2011 - but that he was keen that it was retained.
"I don't know, this is something we have to wait and see," said the Spaniard. "But, as I said, my plan is yes [stay separate]."