| | |
| --- | --- |
| Stoner relaxed about track knowledge | |
| | |
| --- | --- |
| By David Emmett and Matt Beer | Friday, September 17th 2010, 08:20 GMT |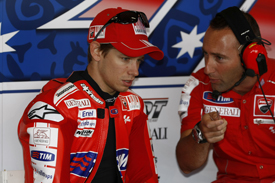 Casey Stoner does not think having refrained from trying the Aragon circuit on a road bike will put him at any disadvantage to his rivals as the MotoGP field gets up to speed at the new venue today.
Although it was not possible to test MotoGP bikes at the Spanish venue, most of the championship frontrunners have learned the layout on roadgoing machinery over recent months.
Stoner chose not to do so, and doubts that his rivals gained anything with their sessions.
"It will be a good example of if getting time on the track beforehand works or not," he said. "I just don't think it's necessary. We'll see how we go.
"It really doesn't get you a lot of advantage. It doesn't get you any set-up data or anything like that. Those bikes are too far from what our bikes are.
"If we were on a factory Superbike with good tyres and everything like that then maybe [we could learn something], but that's pretty much out of reach. A street bike to our bike is just black and white. It would probably be better to ride a Moto2 and get a better understanding."
His Ducati team-mate Nicky Hayden felt his mileage at the track had been useful, but acknowledged that there was only a limited amount to learn without a fully-fledged MotoGP bike.
"In some ways, if you stayed out there too long on a road bike it's almost worse for you, because you get the feel of the brakes not being good and the bike moving around, and then when you get back on a GP bike and get back up to speed... you're going around a corner on a street bike in second gear and 30 km/h when you should be going around it at 70 km/h and third gear or something," he said. "So you only learn the layout."
But the American said he got enough of an impression to be impressed with Motorland Aragon.
"I think it looks really nice," said Hayden. "They did a good job here with the location. I've been to maybe more scenic places in my life, but I'm not here on a holiday or to take pictures. I think the track and the whole facility is a cool set-up."
Valentino Rossi did 52 laps of the track on a Yamaha R1 last week, and said he had a great deal of fun even if it was not as useful as a proper test.
"It was very fun, it was great," he said. "I came here to do maybe 15 or 20 laps just to learn the track, but lap by lap I enjoyed it more, so I tried to improve the lap time and at the end of the day I'd done more than 50 laps and I enjoyed it very much."