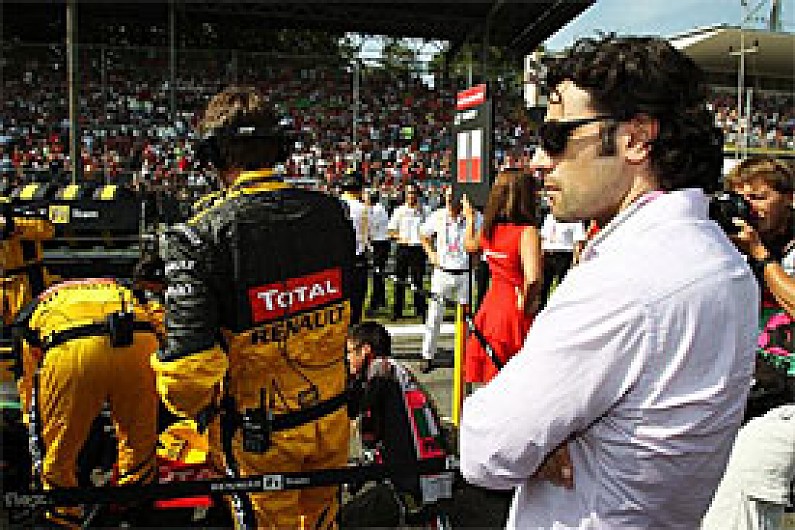 Two-time Indy 500 winner Dario Franchitti may be in the middle of a thrilling battle for the IndyCar title at the moment, but when Renault sponsor TW Steel - whom he is an ambassador for in the United States - invited him to be its guest at Monza last weekend he jumped at the offer.
Franchitti never had the opportunity to race in F1 himself, but he has never stopped following the sport and his interest has been heightened with cousin Paul di Resta landing a Friday seat with Force India this year.
Franchitti was in his element through the Italian GP weekend as he caught up with the numerous friends he has in F1 - and talked to AUTOSPORT about his success this year, plus his views on F1, di Resta and his future.
Q. You are fighting for the IndyCar championship and won the Indy 500 this year. Life seems pretty sweet for you at the moment...
Dario Franchitti: I didn't actually expect to win Indy once. I had come close in 2005, but so many different things went wrong and the number of times I did the race I just thought it would be so difficult to win it. So many different things had to come together. But it happened once, and it was great. I then did NASCAR, came close to winning it again in 2009, and from the very first lap this year we had a car capable of winning it. So when it all came together it was just surprising.
When it happened for the second time it was all a bonus because if you had asked me seven years ago about my plans, I would probably have said I would be retired by the time I am 35. But when I got to that age I realised that I was just really enjoying doing what I was doing, and I don't even think about retiring. I absolutely love it, and the results are better than they have ever been.
Q. So there is no reason why you can't aim for more titles and a hat-trick of Indy triumphs?
DF: I will keep going. As long as I am enjoying it and as long as we are winning races and being competitive - and the two are definitely linked - then I will keep going. I was talking to Rubens Barrichello in Monza and I watch him a lot. I understand him and what he is going through, and he is driving as well as ever. Just watching him and talking to him, he is as determined as ever.
Q. Did the time out in NASCAR, and the time pondering if you wanted to return to single seaters after the big accidents, help you get more focused about what you are doing now?
DF: There was a big misunderstanding that I left IndyCar because of those crashes. I really didn't. Somebody said to me at the time, 'did you switch because NASCAR is safer'. And I said, no, I've managed to hurt myself in all kinds of cars. In fact, I broke my ankle in a Nationwide car.
What that did was show me that, being away from something, I really missed driving the IndyCar - and being part of the series. When I was away the two series finally got back together, which was something I had been hoping for in the whole time I had been in America. I thought, 'why did I go away from this?' The team is great, it produces very good cars and it has all clicked.
Q. When you spoke to Rubens did you get a sense of him picking your brains about what he might do after F1?
DF: No. I've known Rubens for more than 20 years. He comes to America a lot, as he hangs around with Tony [Kanaan]. So I probably see Rubens more than any of the other F1 drivers. He has never really asked about IndyCar. He knows it because he has been to a lot of races. I don't see his focus being anything other than F1. I just think he has a very narrow focus on what he is doing - and that's F1.
Q. You spent some time with Paul di Resta at Monza. What advice can you give him? After all, you had a fairly tough time with that ill-fated Jaguar test...
DF: Even before that I had tested for McLaren, and the chances I had to go into F1, I never took them because they never felt right. I've been very closely involved in Paul's career since day one. He is my cousin, I've supported him since day one, and I've given him advice since day one. And, I really believe that he is an exceptional driver. We have seen that with what he has been able to do on the Fridays with Force India and he does it in a DTM car. He did it in F3 too, where he and Sebastian [Vettel] were team-mates and he won.
He really deserves that chance and I hope he gets it. At Monza on Friday I got to stand in the garage, and it was great - as it was the first time I had got to see him live testing the F1 car. I could listen on the radio, listen to his feedback, watch him do his stuff, watch him learn the track, watch him get up to speed - and he is bloody good. He is really good to watch, and hopefully he will get a chance to show people what he can do.
Q. Does he pick your brains about his F1 plans?
DF: Yeah, he does. We speak once or twice a week, and it depends what is going on, but we talk a lot. We are very close. But he is doing his own thing. He will ask advice but he will definitely make his own decisions. And he is very much his own man.
Q. There are also some similarities with your career, having taken the DTM route?
DF: The DTM situation was because we didn't have the budget to do GP2. F3 was a real struggle between his dad and I, and Mercedes-Benz wanted to become involved and do some F3 and DTM - and they have been good to him. There was just never the budget to say, right, let's get going and do GP2.
I think he probably learned more in the DTM anyway. It is not a spec series. He has worked with a manufacturer. People say it is a saloon - but anybody who knows anything about the DTM knows that is not the case. Yes, it has a roof on but that is about it! He has learned a lot and he made the most of his chances with them, absolutely.
Q. Do you think he has taken the right route in what he is doing?
DF: He got up to speed in his first test. That first test in the McLaren and then in the Force India, he was bang on the pace right from the first lap. So, I think he has taken maximum advantage from any opportunities that have been given - simply because I think he is an amazing driver. If you spend any time with him he is smart. If he does get that chance, I think the only person who will be happier and prouder is his old man.
Q. What was it like for you being in the F1 paddock this weekend?
DF: The trucks are nicer and the motor homes are bigger compared to the last time I was here. Recently I've only been to a few of the flyaway races so I haven't seen the whole show for quite a while. It is good to see some old friends, which has been good, and I think the coolest thing was actually going out to watch the cars.
In the first session I just stood in the garage, put the radio on and watched Paul do his stuff. Then I studied the splits and all that sort of thing. Then in the second session Marino [Franchitti's brother], Paul and myself went out to the Ascari chicane and sat on the exit. It is like any form of racing - television slows it down. If it watching NASCAR or IndyCar or F1 - TV slows it down. The change of direction is an impressive as it ever was!
Q. But you wouldn't trade in two Indy 500 wins for a crack at F1?
DF: God, no! Absolutely not. For the chances I had, I think I have done well with the opportunities I have been given. You can't spend your life thinking what if. F1 was something I dreamed about as a kid and the chance never came to do it to the level that I was going to succeed at. To me it was never about being in the paddock and being there - it is about being able to compete for the wins, be it in NASCAR, sportscars, IndyCar or F1. I just never felt those chances were there.
Access even more news on Autosport.
Register for free to increase your monthly limit from 15 to 25 stories - or subscribe today and get unlimited access.
Get unlimited news
Full access to our news and in-depth Autosport Plus features - all in an ad-free enviroment.
Subscribe to Autosport Plus
Get 10 free extra stories
A quick upgrade and you'll boost your monthly news limit instantly - for free.
Register for free