Vettel leads the way in second practice
| | |
| --- | --- |
| By Steven English | Friday, September 10th 2010, 13:33 GMT |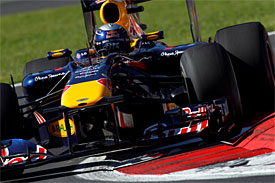 Red Bull and Ferrari led the way in Friday's second free practice session at Monza, with Sebastian Vettel and Fernando Alonso setting the pace.
McLaren had looked untouchable for the majority of the session with Lewis Hamilton and Jenson Button three quarters of a second faster than anyone else.
But both Ferrari and Red Bull sent their drivers out for low fuel, soft tyre runs with half an hour to go, and both teams were able to better McLaren's pace.
Felipe Massa initially went quickest, though his time was soon beaten by Vettel. Then Alonso leapt to the top only for Vettel to respond again, this time with a 1m22.8s.
Massa had to call an early halt to his low fuel run after a scary moment at the final corner. The Brazilian looked set to beat Vettel's time, having set personal bests in the first and second sectors, but dropped a wheel off the track exiting the Parabolica, slid into the gravel and only just kept his Ferrari out of the wall.
But he remained third quickest, as the leading teams reverted to higher fuel runs at the end.
Button kept McLaren's F-duct on his car this afternoon and ended up fourth, while Hamilton drove without it and was fifth. Toro Rosso also removed the device from its cars.
Mark Webber finished FP2 sixth quickest but, as in the day's earlier session, struggled to match the pace of the other front runners. He was denied an opportunity to improve when the Red Bull team ordered him to stop his car on track at the first Lesmo with 18 minutes to go, due to a loss of water pressure.
The Williams of Rubens Barrichello and Nico Hulkenberg sandwiched Robert Kubica's Renault in seventh and ninth, with Nico Rosberg's Mercedes rounding out the top 10.
Adrian Sutil was 11th having reclaimed his Force India from Paul di Resta, ahead of team-mate Vitantonio Liuzzi and the second Renault and Mercedes of Vitaly Petrov and Michael Schumacher.
Jaime Alguersuari's practice came to an early end with just under half and hour remaining when his car stopped out on track as he exited the second chicane.
Lotus was the faster of the new teams this afternoon, both Jarno Trulli and Heikki Kovalainen ahead of the two Virgins.
Bruno Senna is still yet to turn any meaningful laps of Monza today after another problem-filled practice.
His Hispania stopped with a loss of fuel pressure just yards from his pit garage at the beginning of the session. After another failed attempt mid-way through practice, he finally made it onto track with 10 minutes remaining only to park up at Turn 2 on his out-lap.
The second HRT of Sakon Yamamoto completed just five laps.

Pos  Driver         Team                    Time               Laps
 1.  Vettel         Red Bull-Renault        1:22.839            27
 2.  Alonso         Ferrari                 1:22.915  + 0.076   32
 3.  Massa          Ferrari                 1:23.061  + 0.222   20
 4.  Hamilton       McLaren-Mercedes        1:23.154  + 0.315   22
 5.  Button         McLaren-Mercedes        1:23.210  + 0.371   38
 6.  Webber         Red Bull-Renault        1:23.415  + 0.576   23
 7.  Barrichello    Williams-Cosworth       1:23.708  + 0.869   31
 8.  Kubica         Renault                 1:23.709  + 0.870   32
 9.  Hulkenberg     Williams-Cosworth       1:23.852  + 1.013   30
10.  Rosberg        Mercedes                1:23.857  + 1.018   29
11.  Sutil          Force India-Mercedes    1:24.181  + 1.342   35
12.  Liuzzi         Force India-Mercedes    1:24.380  + 1.541   36
13.  Petrov         Renault                 1:24.407  + 1.568   21
14.  Schumacher     Mercedes                1:24.448  + 1.609   29
15.  Buemi          Toro Rosso-Ferrari      1:24.517  + 1.678   35
16.  de la Rosa     Sauber-Ferrari          1:24.547  + 1.708   32
17.  Kobayashi      Sauber-Ferrari          1:24.785  + 1.946   31
18.  Alguersuari    Toro Rosso-Ferrari      1:25.106  + 2.267   24
19.  Trulli         Lotus-Cosworth          1:26.204  + 3.365   38
20.  Kovalainen     Lotus-Cosworth          1:26.306  + 3.467   41
21.  di Grassi      Virgin-Cosworth         1:26.631  + 3.792   31
22.  Glock          Virgin-Cosworth         1:26.676  + 3.837   25
23.  Yamamoto       HRT-Cosworth            1:29.498  + 6.659    5
24.  Senna          HRT-Cosworth                                 3

All Timing Unofficial