FIA to review team orders ban
| | |
| --- | --- |
| By Jonathan Noble | Wednesday, September 8th 2010, 18:43 GMT |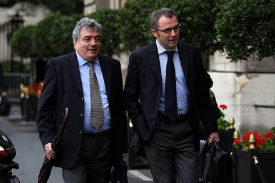 Formula 1's ban on team orders is to be reviewed after the season following the decision of the FIA not to hand Ferrari any further punishment for breaching the regulations at the German Grand Prix.

Following a meeting of the FIA's World Motor Sport Council in Paris on Wednesday, the governing body announced that the $100,000 fine given to Ferrari after Hockenheim would be upheld - and that no further sanctions would be imposed.

However, Ferrari would be asked to pay the FIA's legal costs for the disciplinary however.

A statement issued by the FIA said: "On 25 July 2010, at the Grand Prix of Germany, the stewards of the meeting found an infringement by the Scuderia Ferrari to the prohibition of team orders interfering with a race result and then decided to impose a fine of $100,000 and to forward the dossier to the World Motor Sport Council for further consideration.
"The Judging Body of the World Motor Sport Council held an extraordinary hearing in Paris on September 8, 2010 to examine this matter.
"After an in depth analysis of all reports, statements and documents submitted, the judging body has decided to confirm the stewards' decision of a $100,000 fine for infringing article 39.1 of the sporting regulations and to impose the payment of the costs incurred by the FIA."

Furthermore, the FIA announced that Formula 1's thinktank, the Sporting Working Group, would be asked to look into the team orders ban.

The statement added: "The judging body has also acknowledged that article 39.1 of the sporting regulations should be reviewed and has decided to refer this question to the Formula 1 Sporting Working Group."

Ferrari welcomed the decision of the FIA - and made it clear that its focus was now on delivering a strong result at this weekend's Italian Grand Prix to help boost its world championship challenge.

"Ferrari has taken note of the decision of the FIA World Council, relating to the outcome of this year's German Grand Prix and wishes to express its appreciation of the Council's proposal to review article 39.1 of the Formula 1 sporting regulations, in light of what emerged during today's discussions," said a statement from the Maranello team.

"Now, all the team's efforts will be focussed on the next event on track, when the Italian Grand Prix takes place at Monza this weekend."
The FIA will release a full explanation of its decision on Thursday.