| | |
| --- | --- |
| Q & A: Hayden on events at Misano | |
| | |
| --- | --- |
| By David Emmett | Sunday, September 5th 2010, 18:38 GMT |
Nicky Hayden has now crashed at the first corner at Misano in three out of four MotoGP appearances at the track - and failed to start due to an injury on the other occasion.
After the race he talked to the press about both his poor weekend and opening lap clash with Loris Capirossi, and his feelings regarding the Moto2 crash that claimed the life of Shoya Tomizawa.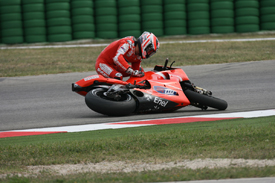 Q. A very difficult weekend for you...
Nicky Hayden: Yeah. Obviously my race was not so good, and it's been a bad weekend almost from the start. Seventh on the first day, but from the second day... I don't know, I probably didn't give the team good enough feedback because we just went off in a bad direction and just made things worse.
This morning after the warm-up we were just basically going to make some pretty big changes for the race, and then you know what happened at Turn 2.
I had a good start and made up a few positions, and then at the exit of [Turn] 2, I opened the gas and I hit Loris. On TV it looks like I just ran into him, but he kind of had a strange line. I thought he was really bringing it back to set up for Turn 3, and I was accelerating one way and he was coming the other. I think it's a racing incident, a first lap deal with everybody going for the same piece of real estate.
It's not good, but obviously that's a pretty minor point of the day really.
Q. Have you had words with Loris?
NH: No, I haven't seen Loris. I'm sure I will. I don't know what he said. I went to pick up my bike and that was it, I haven't seen him. I don't think we're going to get caught up, what with everything that went on.
Q. Did you see the crash in the Moto2 race?
NH: Yeah, it was terrible. Immediately you just got the feeling it wasn't good. Being around racing, just somehow you just know when it's bad - you can almost feel it.
It's bad for everybody involved. We know this stuff can happen and it's racing and we choose to do it. But obviously it's hard for everybody around here. We've lost two in two weeks. You think about his family and friends and his team. But everybody in the paddock feels it. We're all competitors and all teams against each other, but really in a way we're all brothers, and I guess in some ways we're in it together.
Q. Was it difficult to do your own race after something like that?
NH: It's never easy. You see that stuff and it's hard. It's not the first time I've had that happen. But like I say, in some ways you do what you do, it's your job, it's what you want to do and you've got to be a professional and block it out. But you could definitely feel it on the grid. You could feel it in the paddock and the pits before the race.
I think everybody kind of knew. You see stuff going on around the paddock on your way to the [pit] box... I didn't ask. I didn't need to. I could pretty well feel it.
Q. Do you feel it was right to hold the race?
NH: I don't know whether to get into that. What I've always been taught is that you race, almost out of respect in some ways. I know some people think you don't. In Indy people thought we shouldn't [after the death of Peter Lenz in a support race].
It's tragic, but we are motorcycle racers and it's what we do. It's our life. And in some ways, if it was me, I would want the show to go on. I wouldn't want to hold up the race on my account.
Q. On your own race, Turns 1 and 2 at Misano are not good for you...
NH: It's crazy. The first year I didn't even crash, I just ran off track to avoid a crash and cut my tyre. The second year I didn't race. Last year I was caught up in the crash.
Today I really can't point the finger. At the time, I thought 'what was Loris doing?' We all went to open the gas and he didn't go anywhere. My feeling was something happened in front of him that I didn't see. But if you look at the video, it looks more my fault.
Last year I pouted a lot, but [Alex] de Angelis did try to pass three guys in one corner, so that's why I was so upset last year.
Q. Going back to the Tomizawa crash, other riders have criticised the artificial grass beyond the kerbs. Would you like to see it abolished or replaced by gravel?
NH: I wouldn't want gravel out there. I think it's better than gravel.
Q. What's it like to be on, is it slippery?
NH: It depends, some of it is different, but it's not that slippery. It's a lot grippier than grass. But if it was grass, people would be more scared of it. They wouldn't go across it.
Q. That's what other riders have said, that people are not sufficiently scared of going over it...
NH: The astroturf? Yeah, especially 125cc and Moto2 guys. On those tyres and those bikes, they go across it leaned over.
I don't want to point that out with this incident. I said two or three years ago when they started adding pavements and run-offs... we've got that corner at Le Mans that's just a bit of a joke because they've got all that pavement out there so people just use it, use it, use it. If it was grass out there, people wouldn't be overshooting and going straight. It's like Monza World Superbikes, going straight at all the chicanes. I don't like that stuff.
Q. Is it the same with paved run-off?
NH: There have been times when I've used it and thought it saved me a little bit. But there have been times when it's too much. Over there in Turn 4 here, you've seen some guys who've saved themselves, so... I think they've got too carried away. A bit is good, but maybe not to the extent it is now.
Q. It's been suggested that most of these run-off areas are put in for cars not bikes...
NH: I know some riders who think that pavement is safer. They swear that they can get out there and use the brakes. I don't agree with it, for the most part.