Lopez: F1 costs higher than expected
| | |
| --- | --- |
| By Jonathan Noble and Dieter Rencken | Thursday, September 2nd 2010, 12:35 GMT |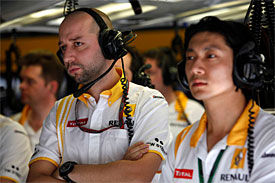 Renault chairman Gerard Lopez has admitted that Formula 1 is proving more expensive than he had anticipated, amid speculation that he could sell back some of the team to its parent company.
The Luxembourg-based businessman, whose Genii Capital company brought a majority shareholding in Renault before the start of this season, says that his involvement in F1 has hit all its targets so far - apart from the amount of investment he has had to make.
His comments come after suggestions at the Belgian Grand Prix that the Renault car company is evaluating buying back some or all of its stake in the team that it sold to Lopez, on the back of its better-than-expected form in 2010.
Reflecting on his first year in charge of the team, Lopez confessed that the one area where he had not hit targets was in keeping a lid on the finances needed to fund a front-running F1 team.
"On the commercial side we are doing okay," Lopez told AUTOSPORT. "But we have committed to a higher investment plan than the one that was initially foreseen.
"It is probably not far off what the biggest teams do, because we kept 500 people, and hired people.
"So commercially speaking we are probably within what we wanted to do. But, in terms of spend, we are probably above. But that was our choice. I would say green lights everywhere except we didn't plan on increasing the spend."
Lopez's comments come on the back of the cash flow issue that the outfit encountered earlier this season - when it wanted a television rights money advance off Bernie Ecclestone to help fund development of its 2011 car before it could get its hands on new sponsorship money.
The money advance did not receive the support it needed from rival outfits, and prompted speculation about Renault's financial situation - as well as fuelling rumours that Lopez could be looking for a way out of his F1 involvement.
The team denied any talk that it was facing financial struggles, however, and managed to overcome the problem internally.
Since then, Renault has announced sponsorship deals with banking groups EFG International and SNORAS for the remainder of the 2010 campaign.
Despite his issues with spending, Lopez says his outfit has hit its ambitions in terms of performance on track – following another podium finish for Robert Kubica in last weekend's Belgian Grand Prix.
"As far as we are concerned, we are essentially where we wanted to be," said Lopez. "We know the car was born slow, and we committed in terms of investment to a different plan to the one that was foreseen initially.
"We committed to having a development for pretty much every race, with big developments like the blown floor and the F-duct.
"Actually, I think we are the only team that developed two F-ducts – we developed one we didn't use and scrapped that one and we developed this one. I think that is what we wanted to do.
"Now that we have done a couple of podiums hoping to have a victory would be good but a little bit aggressive for this season. We are within what we expected."
Lopez said he was also excited about the plans for the 2011 car.
"I think we are quite excited about next year's car, it is always difficult on paper and computer – but as a benchmark of the current car given new regulations it seems a well born car," he said.