Lauda clarifies team orders stance
| | |
| --- | --- |
| By Jonathan Noble | Tuesday, August 31st 2010, 14:59 GMT |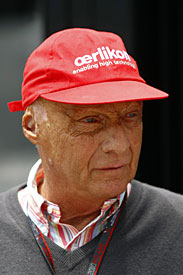 Niki Lauda has moved to clarify his stance on team orders in Formula 1 following a recent high-profile clash with Ferrari over what it did at the German Grand Prix.
The former world champion told the official Formula 1 website that he expected Ferrari to get a 'pasting' by the FIA because of the way it had insulted the intelligence of fans by ordering Felipe Massa to sacrifice the lead of the Hockenheim race to Fernando Alonso
Lauda's comments prompted a furious response from Ferrari, which said the Austrian had missed an opportunity to keep quiet.
In the wake of that public war of words, Lauda has moved to clarify his views on the matter - and denied having made his original comments.
"I've never said that stuff," Lauda was quoted as saying by Corriere della Sera. "On television I only said that team orders are not good for F1 and for the spectacle, and that a team like Red Bull, by leaving Webber and Vettel free to fight, is doing the right thing. Please write that I didn't do any interview.
"I'd authorize [team orders], but only from the moment that one of the two drivers is out of the title race."
Ferrari welcomed Lauda's comments with its official website, through the 'Horse Whisperer' columnist, stating: "I am very pleased Niki has denied making these statements: it shows that fresh air is really good for you!"