Juncadella takes dominant Spa pole
| | |
| --- | --- |
| By Richard Asher | Saturday, August 28th 2010, 07:38 GMT |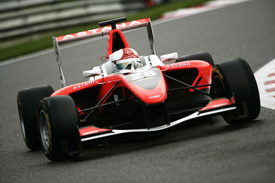 Daniel Juncadella breezed to pole position by almost a second in the GP3 feature race qualifying session at Spa-Francorchamps this morning.
There may yet be controversy, however, as the Tech 1 driver's improvement at the end of the session came when there were yellow flags out on the track.
Qualifying started damp and remained so throughout, with several cars spinning. But the only driver to cause a red flag was Dean Smith, who crashed at Les Combes in the early going.
Carlin Motorsport's Antonio Felix da Costa is set to line up second for the feature race, which takes place later today.
Championship leader Esteban Gutierrez (ART) was fourth fastest, four places ahead of his distant challenger Robert Wickens (Status). The Mexican
is likely to wrap up the title this weekend.

Pos Driver                  Team        Time       Gap    Laps
 1. Dani Juncadella         Tech 1      2m17.433s           12
 2. Antonio Felix da Costa  Carlin      2m18.399s  +0.966   12
 3. Mirko Bortolotti        Addax       2m18.456s  +1.023   10
 4. Esteban Gutierrez       ART         2m18.829s  +1.396   11
 5. Pal Varhaug             Jenzer      2m19.300s  +1.867   12
 6. Rio Haryanto            Manor       2m19.301s  +1.868   11
 7. Stefano Coletti         Tech 1      2m19.421s  +1.988   12
 8. Robert Wickens          Status      2m19.944s  +2.511   11
 9. Adrian Quaife-Hobbs     Manor       2m20.463s  +3.030   13
10. Nigel Melker            Mucke       2m20.684s  +3.251   12
11. Adrien Tambay           Manor       2m20.694s  +3.261   12
12. Daniel Morad            Status      2m20.873s  +3.440   12
13. Josef Newgarden         Carlin      2m20.983s  +3.550   12
14. Simon Trummer           Jenzer      2m20.983s  +3.550   12
15. Oliver Oakes            Atech CRS   2m21.136s  +3.703    8
16. Alexander Rossi         ART         2m21.243s  +3.810   12
17. Tobias Hegewald         Mucke       2m21.284s  +3.851   11
18. Michael Christensen     MW Arden    2m21.310s  +3.877   12
19. Renger van der Zande    Mucke       2m21.803s  +4.370   12
20. Roberto Merhi           Atech       2m21.899s  +4.466   11
21. Vittorio Ghirelli       Atech       2m22.006s  +4.573   11
22. Doru Sechelariu         Tech 1      2m22.559s  +5.126   11
23. Pedro Nunes             ART         2m22.650s  +5.217   11
24. Felipe Guimaraes        Addax       2m23.074s  +5.641   11
25. Nico Muller             Jenzer      2m23.315s  +5.882    7
26. Miki Monras             MW Arden    2m25.241s  +7.808   10
27. Leonardo Cordeiro       MW Arden    2m25.386s  +7.953    8
28. Ivan Lukashevich        Status      2m26.146s  +8.713    9
29. Pablo Sanchez           Addax       2m27.639s +10.206    8
30. Dean Smith              Carlin      2m40.128s +22.695    2