Button wants tough stance on Eau Rouge
| | |
| --- | --- |
| By Jonathan Noble and Matt Beer | Thursday, August 26th 2010, 19:16 GMT |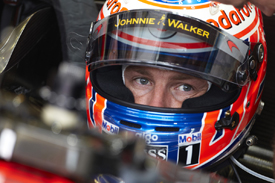 Jenson Button will urge the FIA to take a tough approach to any drivers trying to straightline Eau Rouge during this weekend's Belgian Grand Prix.
The famous corner is expected to pose a tough challenge on full tanks at the start of the race, and with asphalt run-off now available at the bend, Button fears drivers will try to gain an advantage by abusing the track limits.
"I think we need to make sure that people know where the edge of the circuit is," he said. "Because you're going to get a lot of people trying to go round the circuit, and a lot of people going straight, thinking they're not going to get noticed - and it's a massive difference and a massive benefit.
"So I think we need to make that clear with [FIA race director] Charlie [Whiting] beforehand - which I will do."
The world champion added that with no mid-race refuelling this year, tackling Eau Rouge with a heavy car was going to be a stern test.
"With 150 kilos in the tank it's going to be pretty tough," said Button. "And you're not going to want to run the car high just for that either, so it's going to be tricky.
"It's pretty manic here on the first lap anyway. It starts wide and it really narrows up for turn one.
"Then Eau Rouge, side by side through there on 150 kilos, hitting the floor... it's going to be pretty crazy. It will be a buzz. You'll have to have big balls.
"At least there's a big run-off on the exit if you're side by side and have to take avoiding action."