Red Bull bullish over rules clampdown
| | |
| --- | --- |
| By Jonathan Noble | Thursday, August 26th 2010, 17:45 GMT |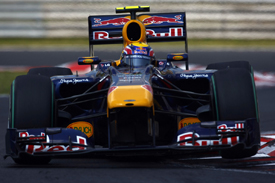 Christian Horner has warned Red Bull Racing's rivals that he does not expect his outfit's pace-setting form to be hit by a flexible bodywork clampdown being imposed by the FIA over the next two races.
As AUTOSPORT revealed this morning, beyond the stricter flexible wing deflection tests already introduced for this weekend's Belgian Grand Prix, further rule tweaks and tests will be imposed by the governing body for the next event in Monza.
And although the floor clarification will likely force a majority of teams to make changes to their cars, Horner says he does not expect his outfit to be unduly hindered by that or this weekend's new wing tests.
"The front wings we have here are the same as we had in Budapest," said Horner in Belgium when asked by AUTOSPORT about how he felt the new tests would impact his team. "We are happy they will meet the tests imposed by the FIA.
"But I am sure our performance advantage will be nowhere near as great as it was in Budapest because obviously the nature of this track is completely different, and horsepower will be a vital element here."
Speaking about the floor tweaks required for Monza, Horner said: "I can't say it will affect us any more or less than any other team. I haven't had a chance to look at the regulation in detail, and you would have to have a chat with Adrian [Newey, technical chief] about that, but I don't think it poses us any major concerns.
"We've been questioned so many times this year - whether it be ride-height systems, whether it be suspension, whether it be blown diffusers. It has been the front wing and now it is the floors, so our guys take it as a compliment that so much of the car has attracted so much attention. But it is understandable, when it [the car] has been as quick as it has, especially in Budapest."
Despite his confidence about rule tweaks not hampering his team, Horner believes that this weekend's race in Belgium and the next event in Monza will be tough for his outfit - because the long straights of Spa and Monza do not play to the strengths of the RB6.
However, he is well aware that each race is now getting more and more important when it comes to the world title situation.
"There are seven vital races, the next two are at tracks that perhaps don't suit the strengths of our car. The driver and team that is the most consistent, doesn't make any mistakes and is the quickest over the next seven races will come out on top.
"We think we are in a good position. We went into the summer break in the lead of both championships, which was a good lift for the team, and everyone has come back fully recharged and ready for the next seven races.
"I think we need to keep focusing on what we have been good at. We've won more races than any other team so far, we've won six grands prix, we could have won more and from every GP you learn something. We try and apply all those lessons into future races. We've got a very strong team, two great drivers and I think we are well set. But don't underestimate the challenge of the McLaren or Ferrari drivers."
He added: "It will come down to little things at the end of the day. It is like seven FA Cup finals from now on. That applies to the drivers, and the team. It means effectively 14 good starts, the minimum of 14 good pitstops, and 14 good qualifying sessions. So it is going to be a very exciting last third of the championship."