Button optimistic of Spa improvement
| | |
| --- | --- |
| By Jonathan Noble | Friday, August 20th 2010, 10:08 GMT |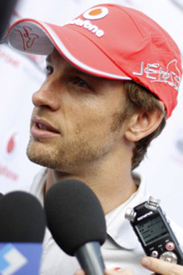 Jenson Button is hopeful that progress made by his McLaren team, plus new flexi-wing tests introduced by the FIA, can help his outfit get its title ambitions back on track at next week's Belgian Grand Prix.
McLaren has endured a difficult time since it introduced its blown diffuser concept at Silverstone, and has seen rivals Red Bull Racing and Ferrari win the last three races while it has taken just one podium finish in those events.
That form has left Button under no illusions that McLaren needs to get its act together quickly - something he thinks can happen thanks to its own efforts and a ramping up of car tests by the FIA to ensure title rivals Red Bull and Ferrari are not using clever flexi-wing concepts.
"We come into the Belgian Grand Prix knowing that we have some catching-up do to," said Button on Friday. "We didn't have a particularly strong race in Hungary, and the whole team wants to get back to the front again as quickly as possible.
"While we're optimistic that the bodywork rules clarification will close the gap among the top teams, and that both Spa and Monza should suit our package better than the Hungaroring, it's still important that we regain the momentum we'd reached earlier this season.
"While I don't think these two European races will be pivotal to the title fight, it will nonetheless be harder to introduce bigger upgrades to the car at the end-of-season flyaways, so it's important for the whole team that we score well in both events."
McLaren team principal Martin Whitmarsh said that despite F1's summer factory shutdown, his outfit had still had enough time to work on sorting out its blown diffuser concept to deliver the performance it hoped.
"After a disappointing Hungarian Grand Prix, we are pushing hard to regain the performance relative to our rivals that we had enjoyed earlier this season," he explained. "While we believe our recent upgrades have given us a downforce improvement, it appears that the package hasn't yet delivered to its full potential, particularly in terms of providing the drivers with a consistent, confidence-delivering platform.
"We were able to carry out some useful evaluative tests during practice in Hungary, which provided us with some useful data and avenues for experimentation. And we'll take that programme further in Spa, running floor rakes during practice to supply us with more information.
"As we've always stated, we believe there are some large areas of performance locked within the car and its recent upgrade, and we are confident that our solid-engineering approach will enable us to fully unlock them sooner rather than later."
McLaren also spent some of the summer period working on maintenance of its wind tunnel to help improve its correlation with on-track performance.