Massa: I'm not a number two driver
| | |
| --- | --- |
| By Jonathan Noble and Matt Beer | Thursday, July 29th 2010, 13:50 GMT |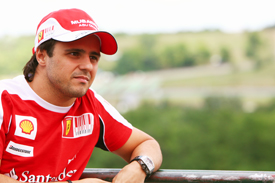 Felipe Massa has insisted that he has not fallen into a number two driver role by handing German Grand Prix victory to Fernando Alonso, and says that if the same situation arose again, he would expect to win the race.
The Hockenheim stewards fined Ferrari and referred the team to the FIA World Motor Sport Council after ruling that Massa allowing Alonso past to take the win, shortly after the team had radioed the Brazilian to inform him that his team-mate 'was faster', constituted a clear breach of the rules banning team orders.
The German GP incident has attracted widespread criticism from the media and fans. In the pre-race press conference at the Hungaroring today, Massa said he stood by what happened at Hockenheim - but that did not mean he had accepted a subservient role.
"The time I say I am number two driver, I will not race any more," he insisted.
When asked what would happen if he was faced with the same situation this weekend, Massa replied: "I will win."
He said he had received assurances from Ferrari that he was still allowed to fight for victories for himself.
"For sure I have spoken to everybody inside the team," said Massa. "As I said I am not here really to race, I am here to win. That is really my point. As long as I am in the condition to win, we need to go to the end, to fight for the victory.
"I am a professional, I work for the team and everybody has to understand my point."
Massa underlined that he had been supporting the overall interests of Ferrari at Hockenheim - pointing out that he had supported Kimi Raikkonen when required in 2007, and that Raikkonen had returned the favour when Massa was fighting for the title in '08.
"I am working for the team and we know how important it is to work for the team," he said.
"You remember what happened in 2007 and 2008, so I don't think I have to go through all the points. If the team really has the chance to win the championship, I want the best for the team."
He also denied that the events of Hockenheim had damaged his standing within Ferrari. Asked if Germany had changed his relationship with the team he has raced for since 2006, Massa replied: "For sure it makes me even stronger."