McLaren happy to let its drivers race
| | |
| --- | --- |
| By Jonathan Noble | Tuesday, July 27th 2010, 09:22 GMT |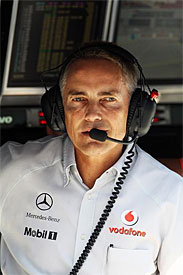 McLaren boss Martin Whitmarsh says he would rather see his outfit lose a championship than impose team orders to favour one of his drivers.
As the controversy over Ferrari's tactics in the German Grand Prix shows no sign of dying down, Whitmarsh has made it clear that he reckons how a team wins is more important than it winning.
"If you win against the odds it is slightly more enjoyable," said Whitmarsh, who has vowed to save his views on what Ferrari did at Hockenheim for a private meeting with Maranello chiefs.
"If you win when you have swayed it to your advantage by cheating or doing something unsporting you wouldn't feel so good. When Mika [Hakkinen] was beating Michael [Schumacher], that was a pretty good feeling."
Whitmarsh is well aware that McLaren effectively lost the 2007 world championship because it allowed Lewis Hamilton and Fernando Alonso to take points off each other over the course of the season, rather than install one of them as number one.
However, he says there are no regrets about the policy McLaren adopts, and thinks that sportsmanlike behaviour is the primary concern.
"We did that [treated drivers equally] in 2007 and we had every reason to be different then," he said. "There were quite a lot of provocations to do something different.
"There is always a bit of you who says we shouldn't have done that, but overall I am proud and I wouldn't be talking about it unless I had some sort of perverse pride in it. It niggles away at you, as it is one that got away, but I know the lengths we went to to be fair."
He added: "During that phase I remember talking to the drivers and their management and saying, 'what a great driver would want to do is look himself in the mirror and say, I have won this world championship on merit and not by the team leaning one way and giving me an advantage.'
"We do desperately want to win but it is about how you win. If you win and you know you have cheated then I don't see how at any stage in your career or post career when you reflect upon it how you can have a feeling of ecstasy."