Q & A: Domenicali on team orders
| | |
| --- | --- |
| By Jonathan Noble | Sunday, July 25th 2010, 16:58 GMT |
Ferrari may have dominated the German Grand Prix, but its 1-2 was overshadowed by the team orders controversy that cost the team a $100,000 fine and being referred to the WMSC.
After the race, team boss Stefano Domenicali faced the press to give his take on the matter. This is what he said.
Q. Can you explain the team orders situation in Formula 1, and why this wasn't team orders?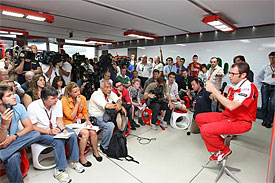 Stefano Domenicali: I don't know if I have to explain to you what are team orders. What I can say from my side is that if you are referring to the situation we have in mind, we gave an information to Felipe about what was the situation. Because we have already seen in the past that certain situations could not give the best result to the team. That was the information we wanted to give and we leave the drivers to understand and take notice of it in order to make sure the team, in terms of the global results, gets the best.
Q. How is this different from Austria 2002?
SD: Honestly, I don't know. What we said to him today was an information about the situation behind. That is what we said today.
Q. Do you not think it was obvious that this was a call to Felipe to let Fernando pass?
SD: That is what you say, I did not say that. But I have to repeat what I already said. There is nothing to add on top of what I said. The more that we have information or comments, it doesn't change the situation. Really it is, for sure, a shame that in a situation like today with a great performance everyone is focused on this thing. It is the most important thing again that we always consider the team interest as the best thing for us, at least. That is what I can say.
Q. After so much politics and critics, can you really feel so happy after this 1-2 finish?
SD: Yes, for sure I am very happy. I understand from your comments that of course I am not happy about the outcome of this great performance of the team because of the pressure that we have from the outside on this specific element. It is something that is part of the feeling that I have now, but I need really to keep up, as a first priority, that the team has done a great job and recovered a very difficult situation after three very, very heavy grands prix - so I am pleased for them. That is very important.
Q. After today's situation, is it now clear that you have a number one and a number two driver?
SD: No. No.
Q. Why?
SD: Because otherwise I would have said yes.
Q. After today, do you think Felipe still has a chance to fight for the championship? If so, if they are together in the same situation, is it better for Felipe to give away to Fernando?
SD: No. I can answer to you that Felipe, first of all, I am very happy with the performance that he did, no doubt. It is consequential to the answer I have just given, by the fact that Felipe will have the chance and for the benefit of the team he will push for the championship, no doubt at all. There is no 1-2.
Q. You've been to the stewards. What did they want to ask you? And with this there will be controversy and bad feeling around your 1-2. Is there a way you could have handled it better?
SD: The stewards wanted to understand the situation. But honestly, a way to handle it better? I don't think so. The situation started really from the fact that we wanted to make sure that we did not have any difficult situation between our drivers. This is what we want. We want to have the team as the best thing.
Q. Not as a team principal but as a human being – was it the hardest race you ever had to watch?
SD: No. I have done a lot of races and I have seen a lot of things happening. As a human being I was much more emotionally involved when we had difficult situations like with Felipe last year – that was in my knowledge the most difficult that I lived.
Q. You mentioned last year. Did you not consider the human side of it all, especially on the anniversary of what the win would mean to Felipe?
SD: For sure, we know that it was very important for Felipe and that he will deserve a victory very soon. He has shown that he is keeping up, and next time I would like to share with him the victory to show what he said to your colleagues on the other side.
Q. This controversy has overshadowed the other one that is bubbling under about front wings. What is your situation with that, and have you received any communication from the FIA?
SD: No. I've seen some pictures of the wing, but you could see that they were taken from very different angles. So, I don't have anything to say on that. I feel that is part of the pressure that is part of the game.
Q. So no letter from the FIA?
SD: No.
Q. Felipe said in the press conference that the reason why the pass happened was because he was struggling with the hard tyres. But how do you explain that at the beginning he was struggling, then he built a gap of 3.5 seconds and then Fernando caught up?
SD: We wanted to control the race. We gave them certain targets in order to control and respect the pace from behind without any risk. We saw Vettel coming up; we informed our drivers that both were catching up. We were also managing that in order to protect the engine we had some laps with the same situation for both drivers, to have a little bit of saving on the engine. When we saw Vettel coming again, we said okay let's go up and push it because they are getting close. That is what we did in terms of management.
Q. This is a different situation from Austria 2002 because then you were dominant with no reason to do it, while here you are playing catch up and can make the decisions. Is it silly to have to go through this charade, or is it better to let teams just do what they want?
SD: It is a difficult question. I understand what you saying but at the end of the day there is always a merit and a logic for both of the scenarios. I think what is part of the situation is that, first of all, on one side there is the clear indication to protect the fight that every driver has to make sure they do whatever they can as fast as they can. You also have to think that the two drivers are a part of the team that is really a key factor of this situation. But the point is that it is a matter of consideration in order to make sure that there is no discussion.
Q. What would have been different today if you had let Massa win from Alonso?
SD: I think that I didn't do anything. We just informed Felipe about the situation and that is it.
Q. But what would have been different if Massa was in front?
SD: On the other side what I can say from the team perspective is that the next chance we can have, Felipe will be faster. I am pretty sure about it.
Q. Over the television we heard several radio messages. Why did Rob Smedley apologise to Felipe after he had let Fernando past?
SD: It was not an apology this way...You have to consider the fact, and you can check with his communication on the radio several times in the past, that Rob Smedley's is correctly in a very good conjunction with Felipe. This is the key of their success. He gave the information to Felipe and he saw what happened and he was not happy about the situation of the car that was not so fast – sorry – was slower than the other one.
Q. McLaren today told it drivers to save fuel and they stayed in the same position. Do you think Ferrari could make things not so clear?
SD: We did not make it so clear. We gave information to a driver and then it is up to the driver to manage the situation. It is as simple as that.
Q. Can you explain why you need to tell a driver who is leading that the one behind him is faster?
SD: Because as a team interest I want to avoid any difficult situations that arise. We have seen not many grands prix ago what has happened to some others, so we would like to avoid that.