Button pins hopes on speed advantage
| | |
| --- | --- |
| By Jonathan Noble | Saturday, July 24th 2010, 18:29 GMT |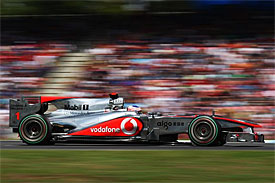 Jenson Button hopes that the low-downforce strategy that McLaren has adopted for the German Grand Prix will help the team deliver a strong result in Sunday's race.
Although the Woking-based team failed to match the pace of Red Bull Racing and Ferrari in qualifying at Hockenheim, Button thinks the straight-line speed advantage the team should have on Sunday can still help it come out on top.
"We can still have a very good race," said Button. "If you have looked at the speed traps you will notice that we are quite a bit quicker than the two teams in front of us.
"Maybe that isn't a positive thing in qualifying but in the race I think it could help us as long as we can look after the tyres which tomorrow might be an issue if it is hot weather.
"We can really use our speed advantage, so I think we can have a good race tomorrow. The first lap will be quite important to stay out of trouble, but also to move forward. And then it is down to strategy and putting in some good laps."
He added: "I think we have got the best out of the downforce level that we run, but is it the right downforce level? I don't know. We will see tomorrow in the race.
"For us this was a tricky race for us to choose what downforce level to run - do we go high downforce with more drag or run what we did run? I think we've chosen the best option that we have."
Button's high hopes on the strategy the team has chosen are born out by the speed trap figures, which show McLaren comfortably faster that its main title rivals:
BUTTON        317.5 km/h
HAMILTON      316.7 km/h
VETTEL        311.9 km/h
ALONSO        308.5 km/h
WEBBER        308.5 km/h
MASSA         308.3 km/h

Button was also happy that he had delivered a step forward in his qualifying form, having admitted in the build-up to the weekend that it was an area he was struggling before.
"I was reasonably happy with the lap - with what I achieved, how the car felt and how I drove the lap. But I thought I would be closer to the front when I crossed the finish line though. I didn't think I would be seven tenths behind pole position.
Button was also confident that the blown diffuser the team was racing for the first time had helped it on the performance front.
"To me where it is supposed to work it does work," he said. "I am getting a benefit from it so it is definitely an improvement, and we were right to keep it on the car.
"We are always looking for more improvements. This is an area where we can still improve, but for us it is a good step forward and for me it feels better than we had at Silverstone. It is just a surprise to see such a big time difference to the two teams in front of us."